Affordable Dorm Room Decor Ideas On A Budget
Whether returning to college or starting out, finding fun yet budget-friendly and cheap dorm decor can be one of the most difficult first tasks.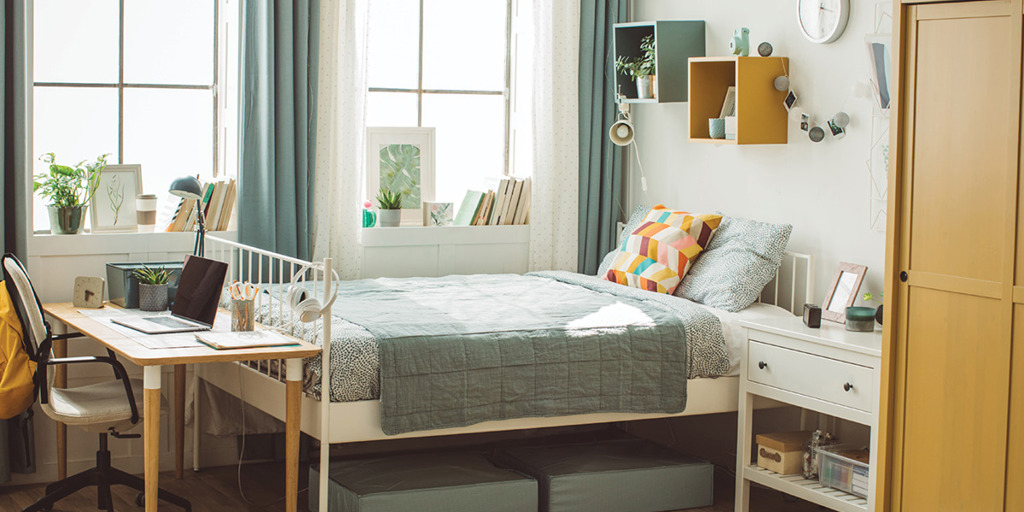 Once you've tackled mapping out your college tuition payment plan, it may not be in your budget's best interest to buy new décor. If possible, create a monthly budget ahead of your college arrival and add a small section for dorm essentials. With the help of these already affordable dorm décor tips, you can create a low-cost, comfortable and personalized dorm room.
5 DIY Dorm Room Decoration Ideas
DIY record painting

Estimated cost: $15-20 dollars
Estimated time spent: 1-2 hours

Using a record as a painting canvas can save you a few extra bucks. Look for old records at a thrift store, such as Goodwill or Shop — CommunityAid and purchase small bottles of acrylic paint from a retail or Walmart store. Get creative and make as many as you'd like to fill up your dorm wall in a personalized way!

DIY wall collage

Estimated cost: $10-15 dollars
Estimated time spent: 30 minutes-1 hour

Wall collage kits are a popular trend for college decor. These can be expensive and aren't customizable, but that doesn't mean you can't DIY your own collage. Find images on Pinterest or your camera roll and print them in bulk. The result will be just as cute for a fraction of the cost of a pre-made collage.

Washi tape wallpaper

Estimated cost: $5-15 dollars
Estimated time spent: 1-2 hours

If you aren't a fan of cluttering your wall with pictures and bulky items, try washi tape DIY wallpaper to add some spice to a dull wall. Pick your favorite color washi tape from your local retailer and create a design—whether dashes, x's, or any combination—to design renter-friendly wallpaper.

Faux flower bouquets

Estimated cost: $10-20 dollars
Estimated time spent: 10-20 minutes

Incorporating color and greenery into your room can make it feel more comfortable, inviting and personalized. Check out the affordable dorm décor options at your local craft store and choose as many individual or groups of flowers as you'd like. Thrift some vases or bring some from home to make bouquets that last throughout the year.

DIY tie blanket

Estimated cost: $15-20 dollars
Estimated time spent: 1-2 hours

Crafting your own dorm room blanket allows you to customize it to fit your color scheme. Pick 1-2 of your favorite fleece fabrics from a craft store or Walmart and follow a simple online tutorial to make a no-sew tie blanket.
Other Budget-Friendly Tips
Re-use items from home.

Estimated cost: Free
Estimated time spent: 1-2 hours

Why go shopping when you can use what you already have? Look around your home for items that are not in use and see how you can incorporate them into your dorm room. Restyle an old bulletin board, lamps or picture frames to give them a fresh look.

Browse the thrift store.

Estimated cost: $10-$15
Estimated time spent: 1-2 hours

Looking for budget-friendly decor options? Visit your local thrift store and browse the aisles for fun items you can use as is or with a few DIY updates. Consider upcycling a planter, old canisters or fun postcards you may find.

Save money on dorm décor with a Members 1st credit card

Supplies for all of these cheap dorm decor ideas are easy to find at most stores and can be created within 1-2 hours. As you purchase your budget-free dorm room décor, consider opening a credit card. This will assist with dorm expenses and help you build credit through essential purchases throughout college. Looking for more college advice? Check out our blog posts for helpful tips on maximizing your college experience, budgeting smarter with digital banking apps and navigating student loans.