Keep it Local, Central PA!
Together we are #CentralPAStrong.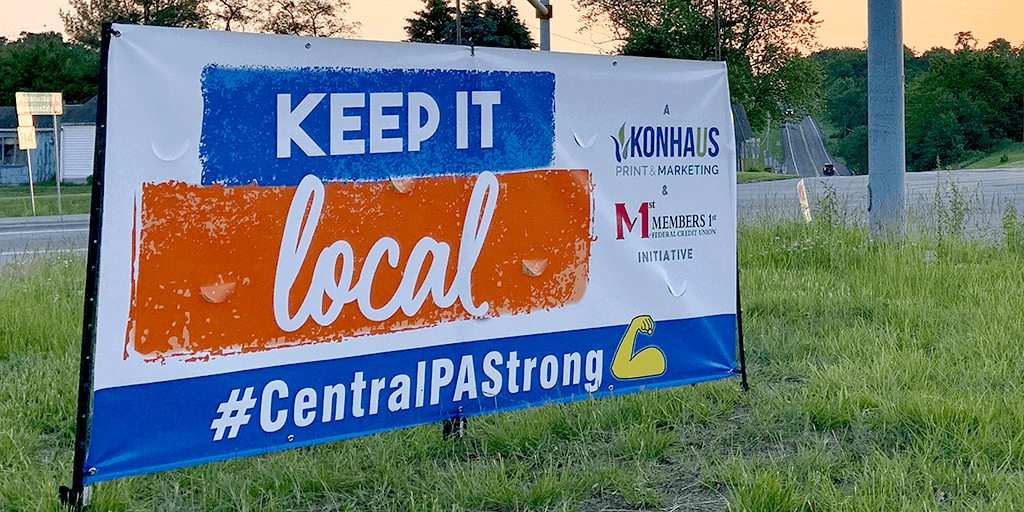 Small businesses are the backbone of our economy. From restaurants to roofing companies, these locally owned and operated businesses strengthen our community. They help create personal relationships, provide local jobs and fuel the entrepreneurial spirit. In short, who doesn't love local small businesses?
Over the past few months, the pandemic has caused a wave of financial challenges for small businesses. Now is our time to come together and support them by keeping our dollars local to help our local economy thrive. We've teamed up with Konhaus Print and Marketing for our 'Keep It Local' campaign, which is focused on spreading positivity, awareness, and supporting small businesses throughout Central PA. We are #CentralPAStrong!
Get to know our Business Member
Our campaign partner, Konhaus Print and Marketing, has been a business member of ours since 2003 and in September 2020, their CEO, Sarah Barr will celebrate 10 years with Konhaus. She is passionate about her company, employees, clients and what she does. Thus, when given the opportunity to purchase the company, it was a no-brainer decision for her. Her local print and marketing company offers graphic design, print, direct mail, promotional products and signage.
Keep It Local Campaign
As a small business owner, Sarah has seen first-hand the impact this pandemic continues to have on businesses and organizations, and we've seen our businesses members struggle as well. It is time we stand behind them, show our support, and keep our dollars in the local economy as much as possible.
We encourage businesses and shoppers to get involved with our campaign by:
Downloading a sign below
Taking a photo with the sign
Posting the photo on social media with our #CentralPAStrong hashtag and tag Konhaus Print and Marketing and our organization
Shopping local and posting photos of your local shopping trip (even if it's online) on social media, along with #CentralPAStrong in your posts
Small business – download a sign here.
Shoppers – download a sign here.
I Spy Game
Each week, Konhaus is giving social media followers the opportunity to win gift cards and other prizes from local businesses with their "I Spy with Konhaus" game. Watch for their Instagram post for hints on where you can find the prize at a local business. To win, identify the business and go locate the prize, which will be in an envelope on our campaign yard sign at the business.
Advice for Small Businesses
While there are so many uncertainties right now, Sarah encourages businesses to not stop marketing! Update your website, review your social media channels, freshen up your logo and print marketing collateral. Stay in front of your customers and prospects!
In addition to posting photos with our signs, we encourage you to interact with local small businesses by checking in, writing reviews, posting pictures and following the small businesses you frequent on social media. This will not only support these small businesses but will also increase awareness and motivate others to support local business. Remember, we are #CentralPAStrong!