$250 ICU DAY GIVEAWAY
In celebration of International Credit Union Day, we're giving you an extra boost towards your financial goals! Enter to win our $250 International Credit Union Day Giveaway between October 17 - October 25, 2022. Two winners will be randomly selected to receive a $250 deposit into a Goal Savings Account!*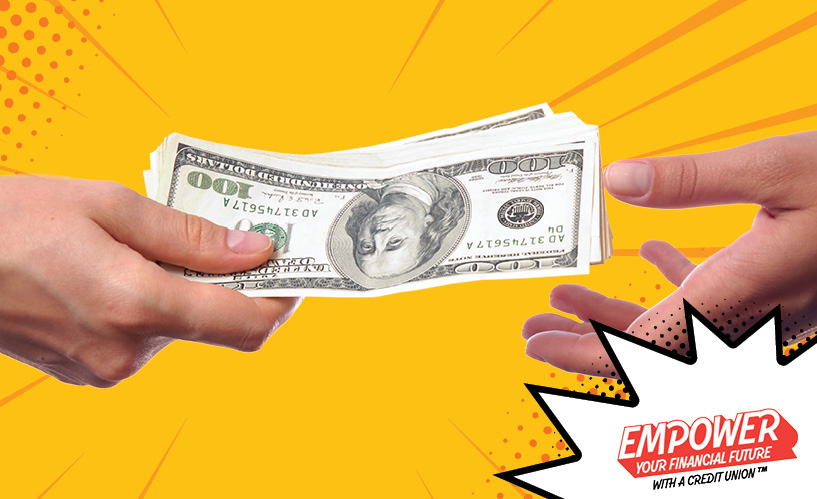 Giveaway Registration Form
Cash4U and a friend
Want to earn extra cash? Refer a friend!
Share your love for your credit union with friends and family members to receive extra cash! For every eligible referral you make to us, you and your referral will receive a cash reward when that individual opens a new account.*
Make a referral
*ICU Day Giveaway Rules and Regulations
MEMBERS 1ST FCU™ - October 17, 2022
This Giveaway is in no way sponsored, endorsed, administered by, or associated with, Facebook™, Twitter™, Instagram™, LinkedIn™ or the Credit Union National Association™. MEMBERS 1ST FCU™ ("Sponsor") is the sponsor of this Giveaway. You are providing your information to MEMBERS 1ST FCU™. The information provided will only be used for tax purposes. 
Official Rules
Enter for a chance to win a $250 deposit into a Goal Savings Account from October 17, 2022, at 9:00 a.m. (ET) to October 25, 2022, at 9:00 a.m. (ET) by visiting Members1st.org/ICU-Day and filling out the digital entry form. A random drawing will choose two (2) winners on Tuesday, October 25 at 11:00 a.m. (ET). To receive the ICU Day Giveaway prize, winner must visit their local branch to fill out and sign the following documents on behalf of the child: an Affidavit, Release, and Waiver of Liability, Assumption of Risk, Indemnity Agreement, and fulfill the giveaway requirements listed below. A Members 1st associate will assist the winner in opening a Goal Savings account at a Members 1st branch.
Giveaway Requirements
The ICU Day Giveaway ("Giveaway") is open to members who are 18 years of age or older and reside in Pennsylvania and Maryland.
Entrants must have an open account with Members 1st Federal Credit Union.
No purchase is necessary to enter or win.
One entry per member.
The giveaway will end at 9:00 a.m. (ET) on Tuesday, October 25, 2022. Participation in this giveaway constitutes the entrant's full and unconditional agreement to these Official Rules and Sponsor's decisions, which are final and binding in all matters related to the giveaway. Winning is contingent upon fulfilling all requirements set forth herein.
Enter for a chance to win $250 deposit into a Goal Savings account from October 17, 2022, at 9:00 a.m. (ET) to October 25, 2022, at 9:00 a.m. (ET) by visiting the Members1st.org/ICU-Day webpage and completing the digital entry form.
A random drawing will choose 2 winners on Tuesday, October 25, 2022, at 11:00 a.m. (ET).
Once selected, Members 1st will notify the selected winner by Tuesday, October 25, 2022, by 3:00 p.m. (ET) by email or phone call.
The winner must provide valid identification, which includes a valid photo ID, and meet all the giveaway requirements listed below.
The odds of winning are contingent upon the number of entrants.
The winner must provide their Social Security number for income tax purposes, or they will be disqualified.
The winner must fill out the DocuSign documents within 24 hours of receiving the email containing a link to the DocuSign documents. These documents include the Affidavit, Release, and Waiver of Liability, Assumption of Risk, and Indemnity Agreement form and must be completed to receive the prize package or will be disqualification will result.
The winner must coordinate setting up the Goal Savings account with Members 1st associates.
If the winner cannot be reached through email or phone communication within 24 hours of being contacted, or if the potential winner cannot fulfill all requirements set forth herein, the potential winner forfeits the prize package. Another winner will be chosen at random from the entries received.
The winner of the $250 deposit into a Goal Savings Account is solely responsible for paying applicable taxes on that amount. If you have any questions, please seek the advice of a qualified tax professional.
This giveaway is subject to all applicable federal, state, and local laws and regulations—giveaway void where prohibited by law.
All decisions of Members 1st regarding the giveaway are final.
Members 1st may change the terms and conditions of or cancel or suspend this Giveaway without prior notice.
The winner agrees to publicity photograph(s) and allows Members 1st to share the photos and/or links they share with us in their comment submissions. These may be posted on social media channels and/or promotional materials without further compensation, where permitted by law.
Associates, agents, and officials of Members 1st and immediate family members of any of these are not eligible to enter.
Members 1st will verify all information and transactions.
Facebook™, Twitter™, Instagram™, LinkedIn™, or the Credit Union National Association™ are neither sponsors nor partners in this ICU Day Giveaway.
By entering, the entrant agrees to release Facebook™, Twitter™, Instagram™, LinkedIn™ or the Credit Union National Association™ of any liability and agree to Facebook's™ Terms of Use.
Once the winner has been contacted, and fills out all required forms and documents, and accepts the prize package, a follow-up post on Facebook™, Twitter™, Instagram™, LinkedIn™ will be scheduled to notify each of the winners.