Often, hobbies turn into a business. That's how Worth It Honey LLC evolved from a California dream to a buzzing Enola small business.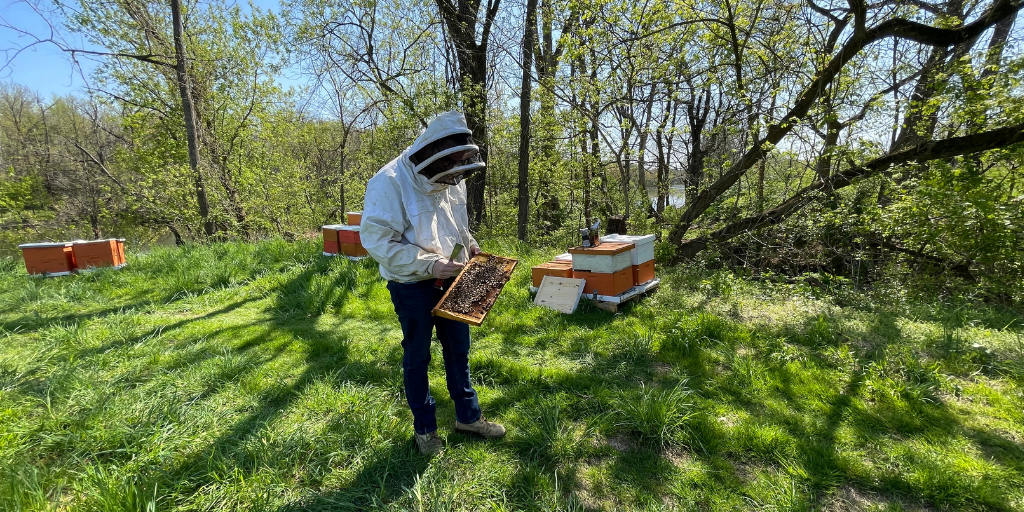 According to The National Wildlife Federation, pollinators, like local honey bees, are crucial to the existence of native wildlife, plants and people in North America. Our business member, Worth It Honey, is passionate about building the bee population, educating people on the giant impact bees have on our lives and providing top-quality products. Check out this small business member story and how Worth It Honey and their bee colony thrive.
Cameron Worth dreamed of becoming an entrepreneur when he began college but was unsure what business to pursue. Years later, while living in California, a commercial beekeeper friend took him to see his company's honey house where he extracted honey and held it until it was bottled and sold. Cameron's interest was buzzing.
Once he and his wife were married and settled in Central Pennsylvania, they began renting a house in Enola with hives on the property. The couple asked if they could purchase a hive and began beekeeping in 2015.
At first, they sold honey on the side to fund their hobby, but over time, their customer base grew as people bought honey and told friends about the product. "Our customers are the heartbeat of our business," said Cameron.
The couple decided to try marketing and networking to see where it would lead. In 2020, they launched their business, Worth It Honey LLC.
Today, Worth It Honey is a side business for Cameron and his wife, Aimee, the sole owners and operators. They sell honey, honey sticks and wax-based products. Cameron handles the "bee work," and Aimee prepares orders and answers customers' questions.
Longtime Members 1st members, the couple applied for a business membership at Members 1st in 2020. "We have always had such a great experience with them that going to another financial institution wasn't even an option in my mind," said Cameron.
What's next? Worth It Honey is working on expanding its services by providing pollination to farmers. As the business continues to grow, Cameron could see it becoming a full-time job in the future.
For entrepreneurs just starting, Cameron shared three pieces of advice:
Take care of your customers and deliver the best customer service possible.
Ensure business deals are mutually beneficial.
Connect with others in your industry and be open to feedback and coaching.
Staying on top of your finances can be a daunting task, but it doesn't have to be with Members 1st on your side. We offer a full suite of digital tools and time-saving services that make managing your business easier than you ever thought possible. Learn about our business services and feel free to contact us with questions.