Our Routing Number: 231382241
Automated Clearing House (ACH)
ACH transfers are another way to simplify your monthly bill paying. This is a convenient form of bill paying commonly used with utility and retail vendors such as your cell phone provider. Funds are electronically transferred from your account through the Automated Clearing House (ACH).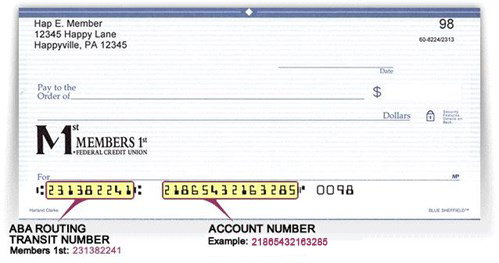 To set up automatic electronic payments, you need to contact your utility provider and/or retail vendor. Many times you can enroll in automatic payments directly from their specific web sites or you may have to complete a paper form.
Automatic payments may be made from your checking or savings account, depending upon your utility company or retail vendor.
It is really up to you. Our Checking Account offers overdraft protection to help you avoid bookkeeping errors.
Direct Deposit is the confidential, electronic transfer of your paycheck, Social Security benefit, pension, annuity check, or other payment into your savings or checking account. Your entire paycheck can be automatically credited toward any combination of your Members 1st accounts each pay period. Direct Deposit increases the safety and convenience of processing your check, eliminates waiting in payday lines, and makes your funds instantly available. With Direct Deposit, your money is protected.
Notify your employer's Human Resources Department or Payroll Department.
Provide your employer with a completed Direct Deposit Form. You can print a completed form by logging in to Members 1st Online and selecting Services, Other Services and clicking Direct Deposit.
Federal or state government employees: complete IRS Form 1099.
Our routing number/ABA number - 231382241
Your savings account number as it appears on your statement for deposit to savings.
If you are having your money direct deposited into your checking account, you need to provide the 10 digit account number that is printed at the bottom of your checks. Your employer may also ask for a voided check to be attached to the direct deposit form.
You can find this information by logging in to Members 1st Online and going to the View Account page. Click the account you would like to receive the deposit. Your account number for direct deposit will be displayed as your MICR. The MICR will be listed under the product name at the top of the page.
Your employer determines your start date based on its payroll processing criteria.
Still have questions?
We're here to help you find answers. Give us a call or stop by your nearest branch.