Create a Realistic Home Cleaning Schedule
House cleaning is not everyone's idea of a good time, but whether you like it or not, it has to get done. Follow these tidy tips to ensure a clean home throughout the year.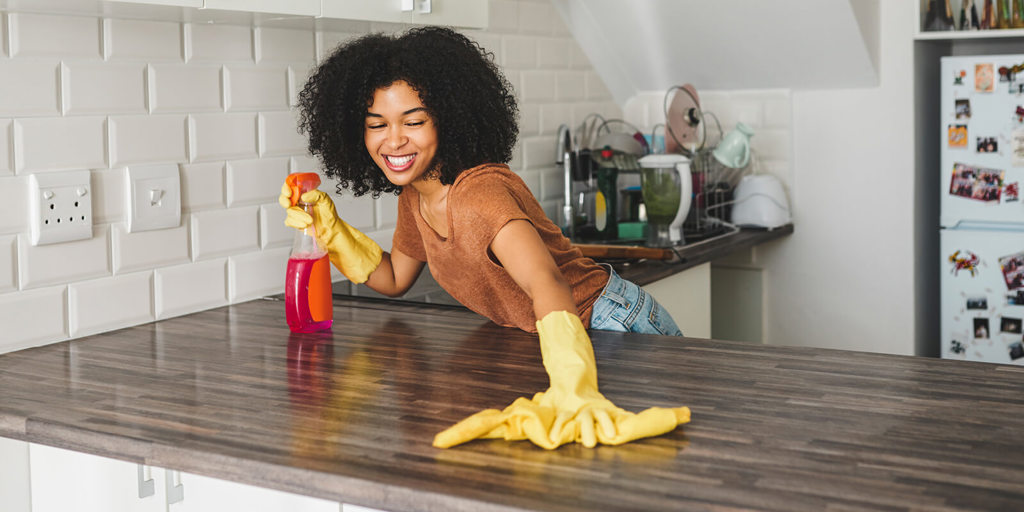 While some people hire a cleaning professional to take care of their home, most people are DIY cleaners. It is not difficult, but it does take time. If you do not plan what you are supposed to clean, it can seem overwhelming. Generally, the mess piles up until you are completely overwhelmed. If possible, tackle a little bit every day, every week, and every month to get your house sparkling clean.
Declutter
If you have not decluttered recently, now is the time. Go through your home and do this room by room. Decide what you want to keep, donate, recycle and throw away. You can dive into the three-box system and how to declutter your space in this blog post.
Our best tip is to set a time every day to declutter and organize for 10-15 minutes. Within a few weeks (to months), your house will be a Pinterest-ready home. Then, every evening after, keep that time in your schedule for decluttering every day. This will guarantee your home will remain organized and easier to clean when the time comes.
Cleaning Schedule
Staying on top of daily, weekly, and monthly cleaning is the best way to keep up with the mess without feeling stressed. Use the checklist below to clean those key areas and detailed spots.
Daily Cleaning
Laundry. Even if you do not have a giant family, we recommend that laundry goes on the daily list. This way, it does not pile up, forcing you to spend the whole weekend washing clothes.
Dishes. Running the dishes overnight and putting them away first thing in the morning keeps the sink clean all day.
Sweeping. No one likes stepping on a Cheerio. Sweep those floors daily.
Declutter and organize. Put things away and tidy up all of the living spaces. Do not shy away from the keep, donate, recycle and throw-away mentality.
Counters. In the kitchen and the bathrooms, grab a disinfecting cleaner, and wipe down the surfaces. This includes the stovetop!
Weekly Cleaning
Vacuum carpets and rugs. Listen, we all know it would be better if you vacuumed a few times a week, but at the very least, get it in once.
Clean and mop the floors. Same as vacuuming.
Bedding. Wash and change your sheets.
Bathrooms. Clean the toilet bowl, mirror, floor and shower/tub.
Fridge and microwave. If you do this weekly, you will never have to do a deep clean.
Windows and mirrors. Clean surfaces that have obvious fingerprints on them.
Monthly Cleaning
Dust. Blinds, baseboards, vents, display areas, mantels and everything else. Go crazy.
Light fixtures. Dust them, vacuum them, spray them - whatever you need to do.
Oven. Run a cleaning cycle or two or bust out that heavy-duty cleaner.
Bathrooms. Clean the toilet, organize the cabinets and wash the shower curtain and liner.
Freezer. Pull everything out, clean the surfaces and put it all back in.
Bi-Yearly or Yearly Cleaning
Furniture. Deep clean your upholstery. Pull out all your big pieces of furniture and clean behind them and under them.
Pillows and comforters. Wash them.
Deep clean carpet and rugs. Shampoo and let them dry.
Drapes and curtains. Remove them and wash them.
All-day clean-a-thon. Spend one or two days a year when you block out the whole day to clean anything and everything. Take a toothbrush to your grout. Clean the hood over the stove. Wash down the walls. Anything that you ignore all year, take that day to clean it.
Download a PDF of your free, fillable home cleaning checklist. 
Home Updates
Now that your house is beautifully tidy and clean, are there any major home projects you want to tackle? A Home Equity Loan could help you fund your improvement projects. Read how our members Patty and Bryan updated their kitchen and dining room areas with financing from a Home Equity Loan. Still have questions? Contact us today to meet with a Personal Concierge. We can help you create a financial plan that fits your lifestyle regarding saving and budgeting.