First impressions are everything—at least when it comes to selling your home.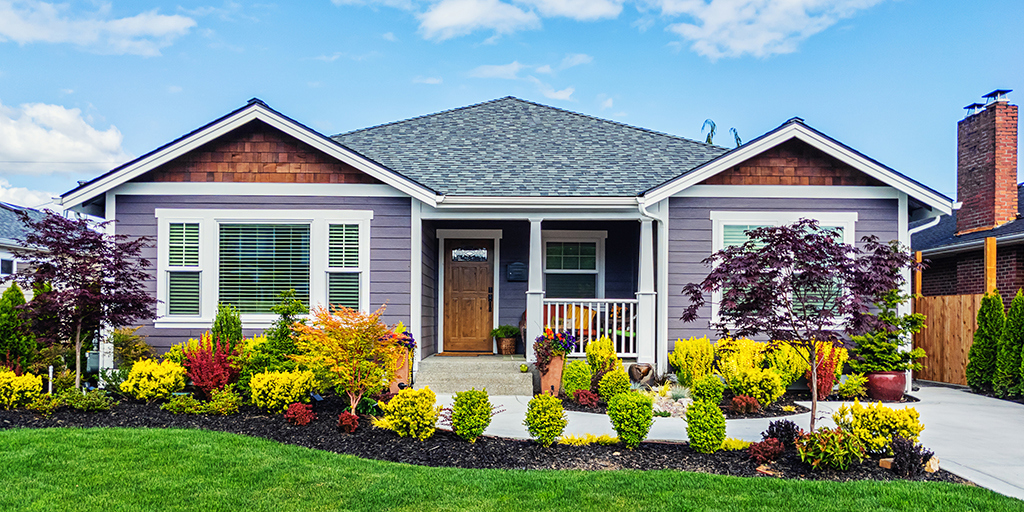 Many potential home buyers will drive by after viewing a home they like online. What will they see? The home's exterior, including the front entry, yard, driveway and sidewalk, should serve as a snapshot of what's to come when potential buyers enter a home. Read on for tips and tricks to help enhance your curb appeal.
Curb Appeal Starts Online
Since many homebuyers begin the process online, fabulous photos are critical to getting homebuyers to the front door. Find the best time of day to shoot each room, avoiding too much sunlight. Take a digital shot and examine it as if you were a buyer and get rid of extras bikes on the front porch, platters stacked on top of the fridge, etc. Eliminate items that don't show your home at its best.
Act Like a Buyer
Walk around your home's entire exterior with a critical eye and a notepad and pen. Take notes on what looks "off" and needs repairing, replacing or cleaning.
Look Up to the Sky
Most homeowners don't give their roofs a second glance, but the roof is an essential curb appeal item that buyers do notice. Is yours missing any shingles, or is it dingy and streaked? A good cleaning, or if necessary, a roof replacement will up your home's curb appeal factor tremendously.
Shiny, Happy Numbers
If your house numbers aren't easy to see or if they're dirty and dingy, replacing them carries a tremendous impact. Consider your home's style—traditional, transitional or modern—and create a harmonious or contrasting effect with new house numbers.
Get a Second Opinion
Homeowners often get used to certain defects—chipped paint on the front door from the keys banging against it, cobwebs on the porch ceiling or cracked or stained steps—and might need a new set of eyes to help them prioritize what needs to be fixed and cleaned up.
Under Pressure
Budget-conscious homeowners will love this tip! Pressure-washing the dirty siding and deck, as well as the oil-stained driveway and faded walkways, is a highly cost-efficient way to increase your home's curb appeal.
Plant Some Color
Spruce up your porch containers, window boxes and front beds with some colorful flowers for an instant lift. Never plant artificial flowers—a few inches of bark mulch will brighten up the beds without screaming "fake."
Open Up
Fling open the shutters, curtains and blinds. Go outside, look at your window treatments from the street and keep a uniform look throughout.
Light Up Your Landscape
Give your walkway an edge with solar light fixtures, which are affordable and a cinch to install.
Add Some Polish
Painting the front door, trim and shutters is a great way to polish the look of your home. Other inexpensive fixups include a new mailbox, a new porch light fixture and a cheery new welcome mat.
Whether you are selling your home and looking to relocate or even purchase a vacation home, we have a mortgage program tailored to your needs. Consider attending a free mortgage seminar and discover just how simple financing can be.