DIY Garage Organization Ideas
According to Home Advisor, the average cost to organize a garage is $1,428 but can be as much as $5,550. However, do-it-yourself (DIY) projects may significantly reduce your expenses.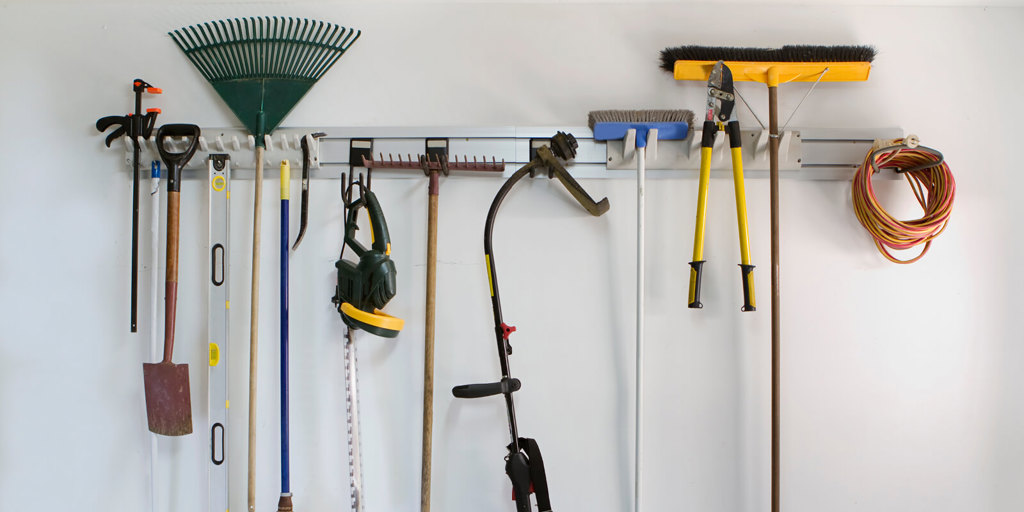 Not sure where to start? Try our eight DIY ideas to help you get organized and stick to your budget.
Use pegboards. Pegboards are relatively inexpensive and easy to hang on garage walls. Secure pegs, hooks and baskets on your board to hold tools, extension cords and other workshop supplies.
Repurpose an old filing cabinet. Visit thrift stores or scroll through Facebook Marketplace to find a wooden or metal filing cabinet. Remove the drawers and turn the cabinet on its side so the openings are facing up. Put your rakes, shovels and brooms in the openings and lean them against a wall. Add color and mobility by painting the cabinet and installing wheels to the bottom.
Create overhead storage. You may have more garage storage than you realize—look up! Use wood planks, plywood and screws to get creative with overhead storage. This shelving can be placed above your garage door or against any wall to hold bins and tubs.
Use clear, plastic tubs. Purchase an inexpensive storage rack or stack plastic tubs from floor to ceiling. Create labels on the side of each tub to help keep you organized.
Give yourself a dedicated workspace. Sometimes the best way to get organized is to set up an area to work on projects. Make a DIY workbench out of 2x4s or repurpose an old table. Your workbench can be your main staging area and you can use it to organize your garage items.
Create a magnetic strip wall. We recommend attaching magnetic strips to your garage wall for easy storage. Arrange metal items, such as paintbrushes, hammers, wrenches, or whatever items you frequently use on each strip.
Put hooks everywhere. Next to the door, above your workspace or in the ceiling, hooks can be helpful anywhere. Hang coats, paint rollers or umbrellas where you need them most. Consider using heavy-duty hooks on the wall or ceiling to hold your bicycles.
Secure additional funding for home expenses. There are times when we want to spend a little more than we have on home improvements. Consider a home equity loan if you need additional cash to complete some of your DIY organization projects. With low interest rates and great terms, you can accomplish everything on your list.