Inexpensive Fall Front Porch Decorating On A Budget
Reimagine your porch this autumn with our simple fall porch decor ideas by repurposing household items and adding a few new affordable pieces.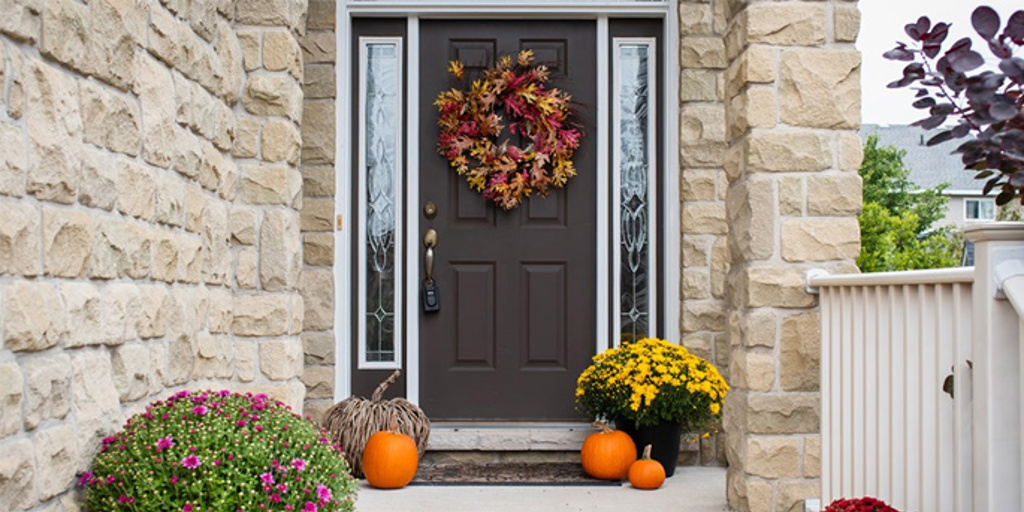 Getting your porch ready for fall means starting the decorating process well before you enjoy your first pumpkin spice latte of the season. We've compiled seven budget-friendly, simple ways to turn your porch into an ode to autumn in less time than it takes to carve a pumpkin.
Repurpose your existing decor. Every home contains unexpected treasures waiting to be put to use again. Do your kids or grandkids have a toy chalkboard? Write a fun fall message on it, such as "thankful" with a drawing of a pumpkin and hang it on your door. Has a stool sat in your garage for years? Spray paint it gold and place it outside the door with a plant on top. Keeping it simple is a great lesson in how to decorate for fall on a budget.

Buy fall decorations at a farmer's market. Skip the expensive tchotchkes at the grocery store and instead buy local, simple fall porch decor from your local farmer's market or a fall festival like one of these. Grab pumpkins, a hay bale and multi-colored corn at a nearby farmstand. Consider growing your own fall veggies in a garden such as pumpkins and squash to help supply your decorations.

Load up on apples. This fruit is a quintessential symbol of fall. Buy apples of assorted greens and reds and toss them in a basket you already own. Place it outside your door to create an instant fall ambiance. (Be sure to swap out the apples every week or two—they aren't as hearty as pumpkins and corn!)

Use natural decor. If your budget is tight, explore the outdoors and collect pinecones, leaves and wildflowers. Sprinkle these items throughout your porch display to really bring out your fall flair.

Purchase additional supplies at a thrift store. Look in the home supply section of thrift stores, including Salvation Army or Goodwill, for fall-themed signs, doormats or Halloween decorations.

Embrace your green thumb with a DIY twist. Nothing livens up a porch like flowers. From mums and pansies to marigolds, fall offers many beautiful choices. Display the flowers in a homemade planter. Paint a plastic container or glass jar in a seasonal color. Once dry, place the flowers inside and show off this easy fall porch decoration.

Bring out a chair or loveseat. Invite people to enjoy your fall decorations by giving them a place to sit and relax. Cover the chair in autumn-colored accents you find in your house, such as a deep orange blanket or bright yellow pillows. For more seating ideas, check out our easy backyard updates blog post.

Roll out a fun rug. Rugs tie your fall decor together and give your porch an elegant appearance. Search your home for an old rug you don't use anymore, borrow one from a spare room or hunt for rugs at a yard sale.

Make a fall wreath. Shop at a craft store, such as Michaels or Jo-Ann Fabrics, for an inexpensive grapevine wreath with your front door dimensions and intended design in mind. Choose a fall color palate and search outdoors, at a farmers' market or at a craft store for branches, leaves and flowers. Use a glue gun, wire cutters and scissors to create your wreath.

Save money on fall decor with a Members 1st credit card. In addition to our fall front porch decorating ideas on a budget, another way to save is to use our Visa credit card when making a decor purchase. Compare the perks of our cards, including cash back and low rates, to discover the one that best fits your needs. If your fall decorating spree sparked a desire to make more significant home improvements, see how you could fund them with a home equity loan.