DIY & Cheap Outdoor Halloween Décor Ideas
This year, save money on outdoor Halloween decorations with our budget-friendly DIY ideas for pumpkins, spiders and other spooky stuff.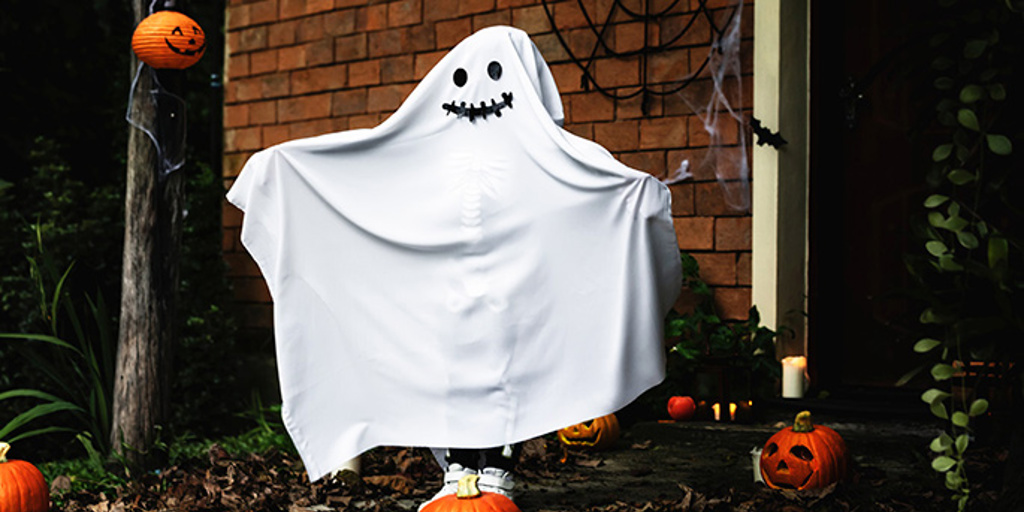 Want Halloween decorations without a scary price tag? We've compiled six affordable Halloween decor ideas to spruce up the exterior of your home this fall using supplies from budget-friendly stores or items you find around your home.
Wooden signs. Buy a wooden sign from a thrift store like Goodwill or Salvation Army or use paint from old DIY projects to cover the old message and add a new one, such as "eerie," "beware" or "pumpkin patch." Lean the sign against your mailbox.

Carved pumpkins. Jack o' lanterns are the season's most popular Halloween décor ideas outside your home for a reason. This year, try something new and eye-catching: search for a design online and print a stencil to make it yourself. Add accessories such as hats, old glasses or bowties to give your pumpkin extra personality.

Cheesecloth and plastic spiders. You can cover a lot of ground with outdoor Halloween decor ideas like a super-sized "spiderweb" constructed from a pair of dollar store finds, cheesecloth and plastic spiders. Hang cheesecloth from the top of one side of your porch and attach the spiders using double-sided tape. Create patterns with the spiders by spelling "boo," "trick" or "treat."

Hanging ghosts or leaf bag ghosts. These cheap outdoor Halloween decoration ideas are a go-to during the spooky season. Visit a craft store such as Michaels or Jo-Ann Fabrics to purchase Styrofoam balls in large and small sizes. Add black eyes with paint. Once dry, drape a layer of cheesecloth over the balls and hang them around your entryway.

Halloween wreath. Halloween provides endless opportunities for creativity. Nothing shows off your personality like a homemade wreath. Create a black wreath from dyed cheesecloth, repurpose a hanging skeleton into a wreath design or hot glue pieces of Halloween candy together to form a trick-or-wreath.

Halloween archway. Go big for your home! Buy 20 to 30 pumpkin trick-or-treat buckets in various colors from the Dollar Store or other retailer and drill a hole in the bottom of each. Make the hole big enough to thread PVC piping through. Plant one side of the piping in the ground near the front of the pathway to your home. Add pumpkins to the piping until you reach the middle. Then, thread the remaining pumpkins facing the opposite way so that the pumpkins all face upright. Plant the other side of the PVC in the ground opposite the first hole and voila! Your front yard becomes a pumpkin paradise.
Get Your Halloween Decorations with a Members 1st Visa Credit Card
As you buy your supplies to create DIY cheap Halloween decorations for outside your home, remember that the best Halloween treat is using your Members 1st Visa credit card to receive great rewards, such as cash back. Compare our cards to see which would help you the most as you shop for Halloween décor.