Remote work is here to stay for many organizations. While employees can enjoy flexible work from home options, creating a productive and dedicated workspace can be challenging.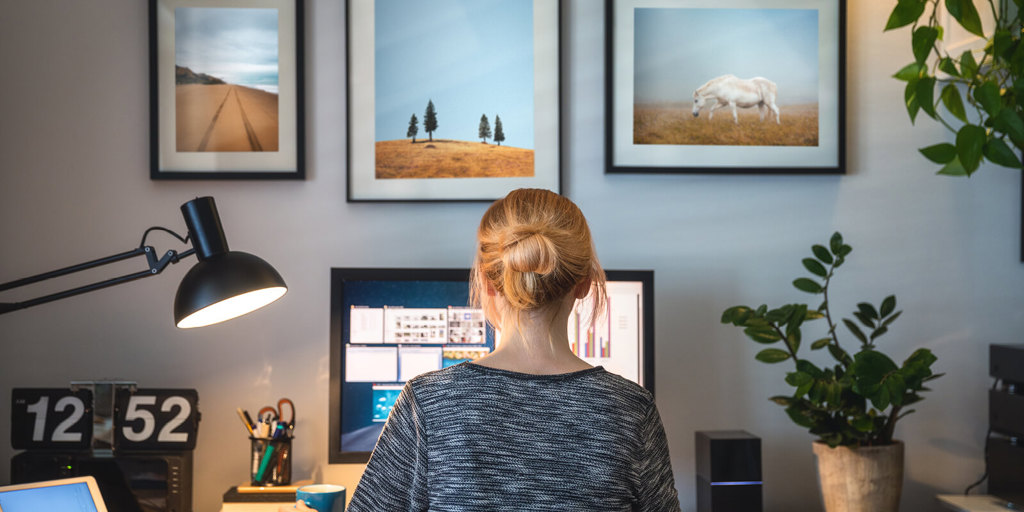 Great home office setups can be multifunctional—a workspace by day and a hangout space by night to catch up with friends and family. How do you create this multifunctional room? We have tips for how to turn your little nook into a space that meets your needs.
Need even more of an incentive to rethink your home office? Some realtors are use home offices as a selling point for houses. Investing in your workspace now could pay off in the future.
Claim Your Space
Distractions are prevalent at home, while Wi-Fi signals may not be. If possible, find a quiet area with a decent internet connection, even if that means a folding screen that gives you a designated space. However, a space with a door is advisable, so you can block out loud noises and family members who may want to enter during calls. As stated previously, you can use your home office professionally and socially. Be aware of what objects are in sight, especially for work-related calls.
Upgrade Your Furniture
Start with investing in a new desk and chair. Ask yourself, what do I want from a desk? Perhaps that's storage space, a standing-desk option or a vast enough space for two monitors. Now, let's talk about your chair. A good office chair helps with your posture and comfort—the right desk and chair combination will help with your computer height and video angle. Is your space big enough for more furniture? Consider adding useful pieces of furniture (a bookshelf or printer table) and show your personality. Remember, these furniture pieces may be in your Zoom background, so be sure they are inviting but not too distracting.
Select Lights and Decor
Good lighting is a pro-tip that many of us forget. Use lighting in your space that is flattering to you and inspires confidence. Bright lights overhead or behind you can be harsh and cast shadows, and white light may wash you out. One light positioned steadily and directly by your face can be a good idea. The décor in your space should also speak to your personality. Don't over clutter your space with desk objects or a sea of photos on your wall. Instead, add thoughtful pieces of décor that are cohesive with your space's overall look and feel, such as your favorite artwork, a plant or a candle. Many décor options are available to purchase in-stores and online, and many can be budget-friendly.
Overall, it's important to remember this room is yours and should be welcoming not only to your videoconferencing co-workers and friends, but also to yourself. You should feel productive in your space, which could mean a complete room makeover is in order. As mentioned before, revamping this space could pay off in the future when you sell your home. Why not put the equity in your home to work for you? A home equity loan could help fund your home office makeover.
Have questions? As a member, you have access to a personal concierge—your go-to for help setting and achieving your financial goals. It's their full-time job to help you navigate the details of spending, saving and planning for the future. Best of all, they're here whenever you need them.