11 Items to Include in Your DIY Winter Car Emergency Kit
Assemble this easy kit to keep you and your car safe in the event of a breakdown.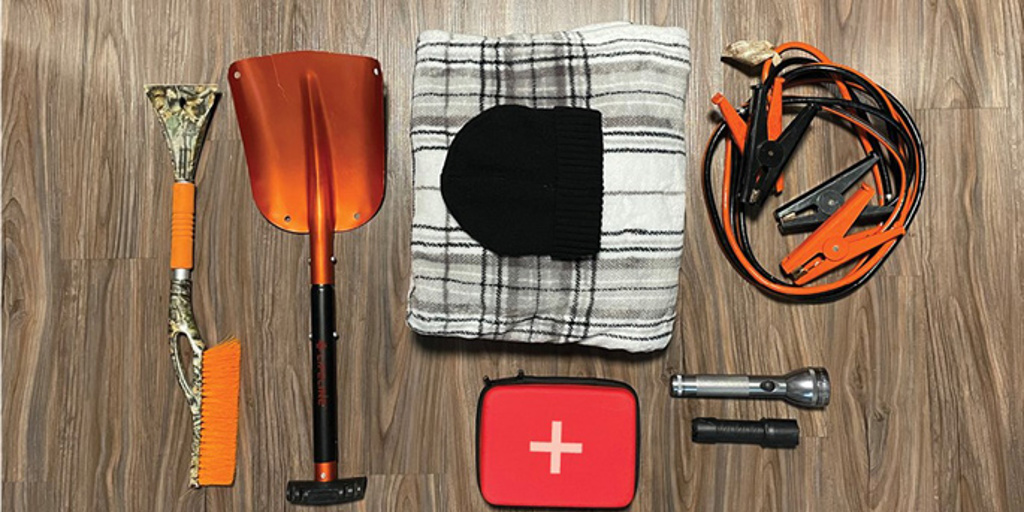 One in three drivers will experience a breakdown while driving this year. Be prepared! A car emergency kit contains everything you need to stay safe and wait out a breakdown. With our simple DIY car emergency kit, you will be ready to navigate any unexpected road bumps.
Why an Emergency Kit Is Essential
Planning for the worst can help make the best of a bad situation, whether you are dealing with a financial emergency, health emergency or vehicle emergency. An car emergency kit includes the things you need to fix your car if it stalls or keep you warm and hydrated if you become stranded. An car emergency kit makes your worst-case scenario more bearable.
What to Include in the Kit
Store your car emergency kit in a large plastic tub with a lid that seals. Here are the items you should include:
Jumper cables: Make sure your cables measure at least 15 feet long. While a YouTube video on your cell phone can show you how to use the cables, it is better to learn what to do now in case you lose your internet connection in an emergency.
First aid kit: Include all the basics, like bandages and gauze, plus pack extra doses of medication you take daily.
Warm clothes and a blanket: You will stay toasty if you get stuck in a blizzard or ice storm.
Flashlight and batteries: A powerful flashlight can help you navigate dark roads at night to seek help. Swap out the batteries once a year.
Bottled water: Store at least six bottles in your kit to prepare for longer strandings and breakdowns.
Ice scraper, snow brush and shovel: Have the gear to clear snow from your vehicle when you are ready to move again.
Car charger: You may need to call for help or entertain yourself if you get stuck, so keep an extra charger in the car to keep your cell phone battery full.
Food with a long shelf life: Packs of crackers, peanut butter and protein bars will sustain your energy levels if you wait long for help.
Chemical hand and foot warmers: Cold extremities can make that long wait even more uncomfortable.
Small bag of kitty litter or salt: Pour either option beneath your tires to gain traction on a slippery road.
Anything else you can think of: The car emergency kit possibilities are endless.
Download our free Winter Car Emergency Kit Checklist to help you prepare your own kit. 
Choosing the Right Car Insurance
Of course, you can breathe easier during an emergency when you know you have quality insurance to rely on. Contact us today to learn more about our car insurance offerings or discuss auto loans.