DIY Halloween Costumes for Kids
Need some Halloween costume inspiration for your child? We have five affordable, cheap and adorable costumes you can DIY.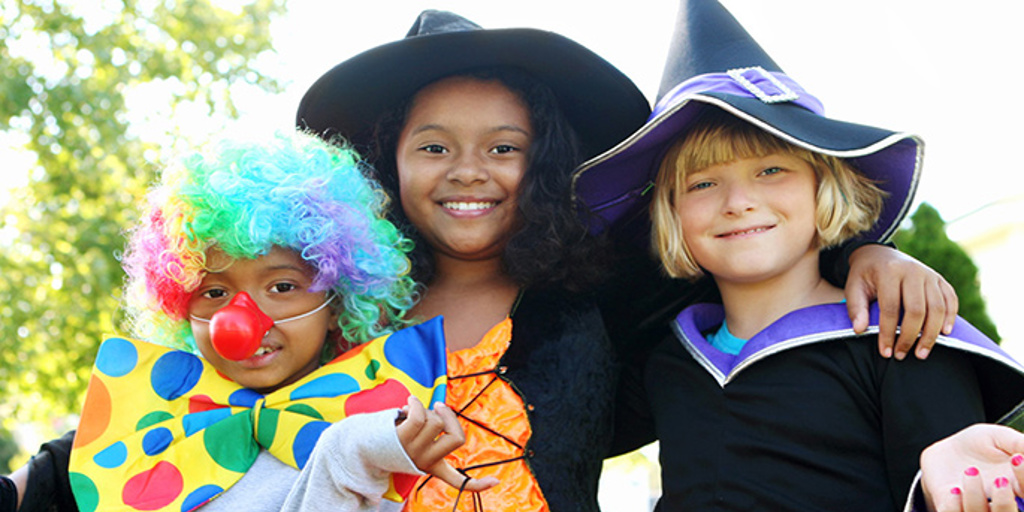 This Halloween, you could buy your child an overpriced costume at the store—or you could create something delightfully different and homemade for just a few bucks! Your child will love their unique look, and fall will be even more fun with these five DIY kids Halloween costume ideas.
Static electricity. Pin six different colored socks, three pairs of (clean!) underwear, and two small tank tops or baby shirts on a white T-shirt and pants or shorts. Squirt hair gel in your child's hair to make it stand up. Give them a small laundry basket to collect treats. Your child will look like you just pulled them out of the dryer.
Pig in a blanket. Buy pink craft foam from a craft store like Michaels and draw pig ears on it. Cut out the ears and attach them to a headband using hot glue. Draw a circular pig snout on a piece of pink paper. Cut a toilet paper tube in half and tape the snout on the end, wrapping the tube with the remaining pink paper. Then, tie a 6-inch band of elastic to both ends of the tube to make a nose your child wears around their head. Wrap a blanket around your child and secure it with safety pins if it's loose.
Black-eyed pea. Buy a sheet of poster board from a dollar store and outline a giant letter P. Cut out the P and attach string to either side of the top, hanging the P around your child's neck. Use mascara or eyeliner to draw a thick black line under each eye. (Get it? Black. Eyed. P.)
Raining cats and dogs. Does your child have a raincoat and boots? Then you're already halfway there! Pair them with a DIY umbrella. Google "black outline of dogs" and "black outline of cats" and print out a half dozen of each. Cut out each picture and attach it to a black string 3 to 5 inches long. Hot glue the strings to an old umbrella, alternating cats and dogs. Have your child carry the umbrella "raining" cats and dogs while wearing rain gear.
Hot air balloon. Again, a dollar store is your best friend for easy DIY kids costumes. Buy a circular plastic laundry basket and cut out the bottom so your child can stand in the basket and pull it up to their waist. Attach two long pieces of twine to the front and back of the basket to create straps that go over your child's shoulders to allow the basket to hang. On Halloween, buy a single giant helium-filled balloon and tie it to the back of the basket.
Save More on Halloween Goodies with Members 1st
Celebrating Halloween on a budget will spark your creativity—especially if you try your hand at making these DIY kid Halloween costumes. And don't forget to use your Members 1st Visa card for all the purchases necessary to create these cheap Halloween costumes for kids and reap the rewards while you shop.
We are not affiliated, associated, authorized, endorsed by, or in any way officially connected with any other company listed in this blog. Use of them does not imply any affiliation with or endorsement by them.