DIY Thanksgiving Decorations
Thanksgiving offers almost endless options for decorating, whether you're hosting 25 people for Thanksgiving dinner or having a small but festive feast. Luckily, many of the best decorations are also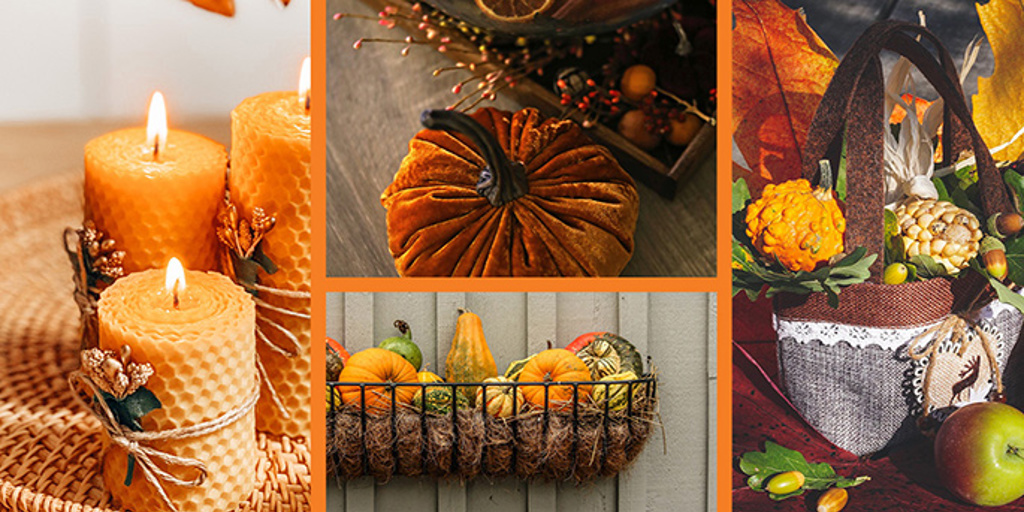 Thanksgiving offers almost endless options for decorating, whether you're hosting 25 people for Thanksgiving dinner or having a small but festive feast. Luckily, many of the best decorations are also inexpensive to make. Let's give thanks for these seven DIY Thanksgiving décor ideas!
Chalk Paint Pumpkins
Time to make: 15 minutes
Total cost: $15
While orange pumpkins scream "Halloween," white pumpkins look more sophisticated and tie in with Thanksgiving. Purchase Styrofoam orange pumpkins from Dollar Tree and coat them with white chalk paint. Create two stacks of three pumpkins using hot glue to keep them from falling. Grab a few leaves from outside to poke in between each pumpkin layer to add color.
Glitter Leaves
Time to make: 15 minutes
Total cost: $10
Display glitter leaves on a banquet table or fireplace mantel for extra flair. Buy silk leaves and autumn-colored glitter, such as red and gold, at a craft store like Michaels. Mix a few drops of water into white glue and spread the mixture on each leaf. Sprinkle with glitter, shaking off the excess.
Gourd Candles
Time to make: 30 minutes
Total cost: $8
Buy a pack of gourds at your local farmers market. Using pumpkin-carving utensils, hollow out enough of the gourd to insert a tall candle or tealight—whichever you have available at home. Place them on your serving table during the meal. Be sure to light them for a fall glow.
Pinecone Turkey Place Cards
Time to make: 25 minutes
Total cost: $3
Have kids? Send them outside to gather one pinecone for each dinner guest. Cut feathers from red, brown and orange construction paper and hot glue them to the back of the pinecone. Write each guest's name on a small piece of yellow paper and lean it against the feathers. Add a small yellow paper beak to the front of the pinecone.
Paper Leaf Garland
Time to make: 30 minutes
Total cost: $8
Find a template for a 4- to 5-inch leaf online and print it. Use it to cut leaf shapes from multi-colored card stock bought at Walmart. Punch one hole on the left and one on the right on the wide end of the leaves. Draw "veins" on the leaves with a glitter pen. Thread twine through the leaves to hang.
Corn Husk Wreath
Time to make: 30 minutes
Total cost: $14
Grab corn husks used to make tamales at Weis or Giant. Tear them into strips and hot glue them to a straw wreath form from Michaels. Streak with gold glitter paint to add sparkle.
Glittery Acorns
Time to make: 35 minutes
Total cost: $2
Another great family project! Ask your kids to gather handfuls of acorns from the yard or a nearby park. Paint each one with glitter glue, adding as much or as little as you desire. Place the acorns in a crystal vase or glass serving dish to make a centerpiece.
Your guests will love your DIY Thanksgiving decorations! Remember to use your Members 1st Visa card to purchase the supplies needed for all your fun projects.