How to Reduce Food Waste and Save Money
Over the past few years, the number of Americans experiencing food insecurity has increased, and while we've made great strides, food is still wasted by consumers daily.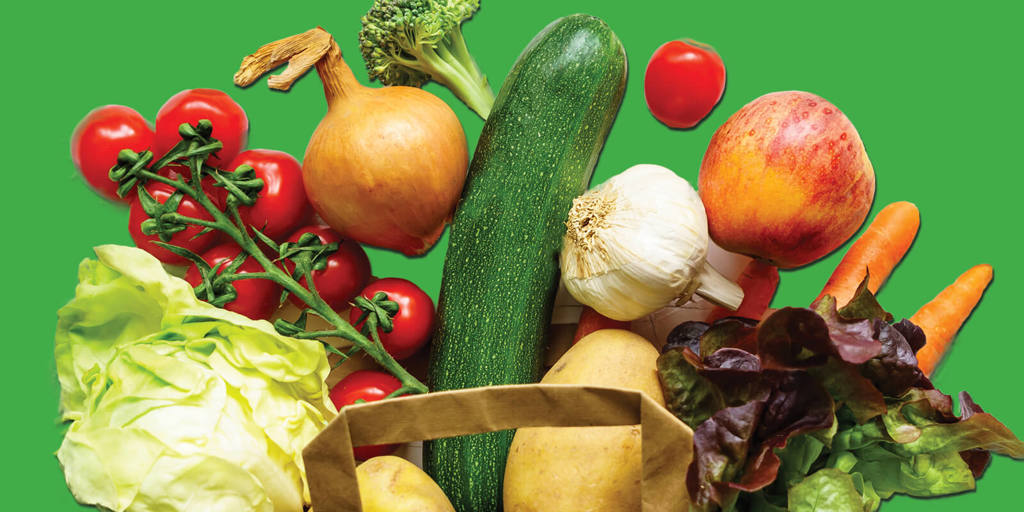 The good news is your actions to reduce your food waste, no matter how small, can positively impact your health, community, environment and save you time and money. Here are a few tips to help to help alter your food habits both in the kitchen and in the grocery store:
Plan and Shop Strategically
Take Food Inventory. Open your food pantry, fridge and freezer to see what food you have on hand and what expires soon. Write your weekly meal plans based on those existing items, prioritizing the "must use" items and be specific about your amounts. If you eat berries on your cereal daily, write "berries for five breakfasts."
Shop to Freeze. As you choose your food items and meals, consider choosing foods that freeze well. You can even freeze vegetables, fruits and herbs for easy use in the future, which is especially helpful as items go out of season. Choose at least one or two days per week to eat leftovers in your fridge or freezer—this is a great time saver!
Avoid Impulse and Bulk Buying. Resist the urge to buy items not on your grocery list and that come in overly large packages. Unless you are cooking for a crowd, it's unlikely you will use five cans of oatmeal, even if the 5th one is free. Often, buying less may be the right amount of food.
Store Food Smarter
Rotate Food. Consider the FIFO, or "first in, first out" method used by restaurants. In your fridge, freezer and pantry, move older foods that expire soon to the front and newly bought food with longer shelf lives to the back. Also, clearly and visibly mark expiration dates on items.
Store Correctly to Avoid Spoilage. Much food waste comes from a lack of knowledge about storing food. Research the best ways to store food items (not everything goes in the fridge) and check out the U.S. Department of Health and Human Service's FoodKeeper App to learn about maximizing freshness.
Know Your Date-Labels. A "Sell-By" or "Use-By" date can be confusing. Proper storage and handling of products can prevent spoilage. Use your senses—if the food looks or smells "off," throw it out. Learn the meanings of date labels on the U.S. Department of Agriculture's website.
Think Before You Toss
Trim and Enjoy. We are quick to throw away "suspect" looking food, but often, the food is edible. Cut moldy edges off cheese and dark spots off vegetables and fruit. Nutritional values exist in fruit and veggie skins, as well as some poultry items like chicken. Research what's edible and dig in!
Take Notes. Pay attention to which foods you don't eat and ultimately end up spoiling. We're talking about the food that you say, "I will eat that later," and it never happens. Keeping track of this provides insight into which foods you can cut back on when you shop. Why buy items you won't eat?
Consider Composting. Participating in a local composting program or starting a compost pile in your backyard can reduce food waste and enrich the soil. The P.A. Department of Environmental Protection (D.E.P.) has excellent resources about composting and even provides the E.P.A.'s how-to guide for composting at home. Alternatively, use the D.E.P.'s Recycling and Compost Facility Directory to find a composting site nearby.
Cook with Intention
Food Prep. Life gets busy and working ahead today can help streamline your cooking process tomorrow. If you make a salad for dinner tonight, make one for tomorrow night and chop veggies for a recipe you also plan to make. Future you will appreciate this.
Adhere to Serving Sizes. This note is essential for cooking and freezing food. Keeping portions in a healthy range can help you reduce overeating, food waste and help you maintain a healthier weight. Freezing portion-size food also helps with portion control when you defrost and reheat your next meal.
Get Creative. Overly ripe or "aging" produce can make great smoothies—consider saving your vegetable scraps to make stock for soups. Give your water a flavor boost by adding fruit or cucumber peels to it. Outside of the kitchen, look up self-care recipes for pampering products that include leftover produce.
If you think about it, the four Rs of recycling, review, reduce, reuse and recycle can also pertain to reducing food waste. Habits are hard to break, so start with small steps to help conserve your food. As you choose where to shop, always prioritize buying local to help support your community and if you have extra food, donate it to a charity in need.
Save even more money by using our Visa Platinum® Rewards Credit Card and earn 2% cashback on gas and groceries, as well as 1% back on all other purchases. Compare our credit cards to find the right one for you!