Winter Home Maintenance Checklist
Wondering how to prepare your home for winter? We're here to help you prevent minor problems from turning into major ones this season.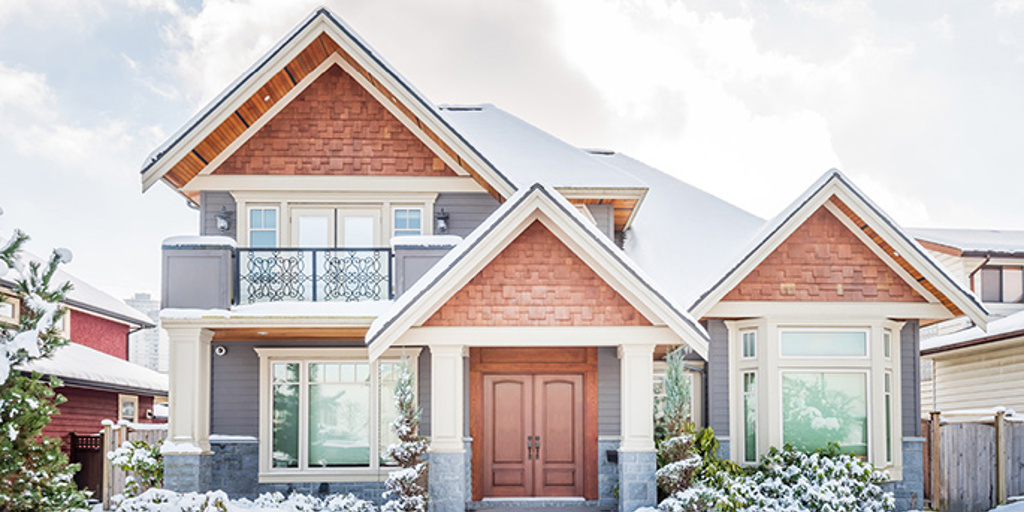 It's getting dark at 5 p.m., and you can't go outside without a coat. Now is the perfect time to "winterproof" your entire home using our easy winter home maintenance tips.
Exterior Maintenance Tasks
Store outdoor furniture indoors. Wipe down each piece and put everything in the garage or shed.
Check your roof. Look for telltale trouble spots, like missing or loose shingles. Repair them now so you don't have to worry about a leaky roof when winter storms hit.
Clean gutters and downspouts. Ice jams caused by clogged gutters are a massive headache—that's why this task is essential to complete on your winter home maintenance checklist. Remove all the sticks, leaves and built-up gunk from every gutter and downspout. Next, make sure water runs away from your home.
Drain and store garden hoses. Water gathering in exterior pipes can lead to bursts. Remove hoses and use exterior shutoff valves, if you have them, to shut off water flow for the season.
Inspect your trees. Tree branches that snap during a blizzard can take down power lines or damage your home. Check every tree on your property for rot. Call your arborist to remove dead limbs.
Interior Maintenance Tasks
Caulk windows and seal drafts. Small gaps in the door can lower the indoor temperature and decrease your home's energy efficiency. Caulk around each window for better insulation.
Clean and check the furnace. A clean furnace is an efficient furnace! Replace dirty filters and schedule your annual professional inspection, part of your regular home maintenance, to keep you and your family safe.
Check smoke and CO2 detectors. Indoor airflow is key during the winter months since windows are closed and heating systems can dry the air. Replace all the batteries, then use the test button on your detectors to ensure they're working correctly.
Reverse ceiling fans. Switching the direction of the fans pushes warm air down. You may even be able to turn down your thermostat.
Sweep and inspect your chimney and fireplace. Visually inspect the fireplace for any damage. Then schedule a chimney sweep appointment to eliminate bird nests or other blockages that can form in the chimney during the summer.
Ensure your sump pump works. The sump pump moves water away from your foundation, which is critical during heavy winter precipitation. Consult your manual to perform essential maintenance and schedule an inspection by a professional for extra reassurance.
Download our free Winter Home Maintenance Checklist to help you prepare your property for the upcoming season. 
Be sure to use our Visa card to earn rewards when purchasing your winterizing supplies and preparing your home for winter. If you discover significant damage to the foundation or roof, apply for a home equity loan to pay for your repairs. Use our MyConcierge™ service to learn more!