A Family Salon That's a Cut Above the Rest
Beauty & the Barber Family Salon & Shave Parlor is a York-based family barber salon and shave parlor opened by husband-and-wife duo Marissa and Jeff Miller on June 23, 2020. "We were blessed to be able to open our doors a week after our county turned 'green' during the pandemic," says Marissa.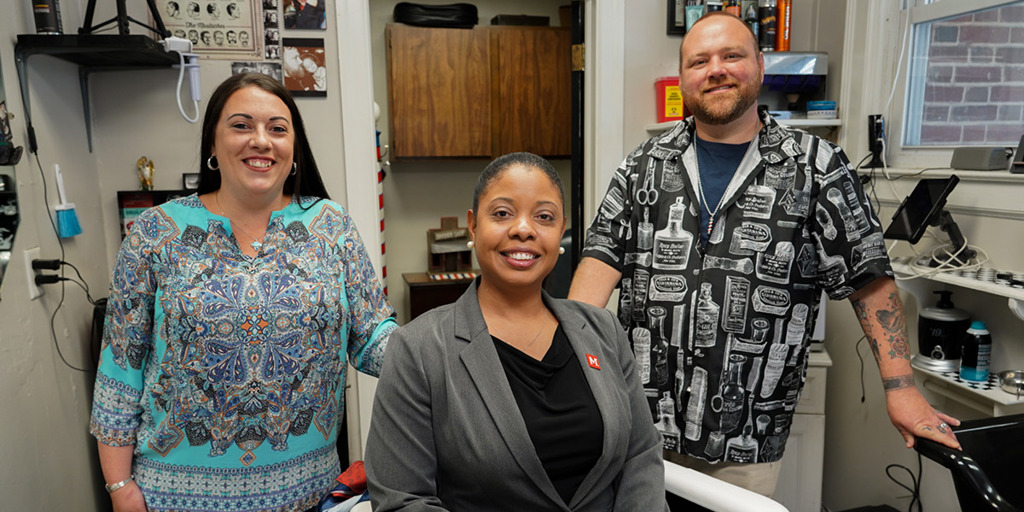 Meet the Dynamic Duo
Born and raised in York County, the couple has broad experience. A licensed barber manager for 20 years, Jeff previously owned two successful barber shops in the York area. Marissa has been in the cosmetology industry for about 17 years and has a dual license between Florida and Pennsylvania.
The Journey to a Business Partnership
Before starting their own business, they worked at Marissa's cousin's barber shop. Due to Pennsylvania's pandemic guidelines, the shop's 8 employees were forced to work in shifts. The couple did not feel it was conducive to work with these restrictive schedules, especially with a full clientele and operating by appointment only. That's when they knew it was time for a change.
They searched for chairs, supplies and their dream location for the next four months. "Some days, we drove between two and three hours looking for 'treasures' and created a vision for what is now Beauty and the Barber," says Marissa.
Offering a Variety of Services
The couple takes great pride in the comprehensive services they offer to their customers. While they both provide family services for children of all ages, Jeff gives intricate detailed cuts, fades and full shaving experiences. Marissa offers detail-oriented haircuts for all hair types as well as styling services for all ages and textures.
Their Member Experience
When Marissa joined Members 1st about three years ago, the couple decided to collaborate on their business affairs with the credit union before starting their new business venture. During their financial journey, they met the Director of Property and Casualty Insurance Sales for our Members 1st Insurance Services Powered by Iscential LLC, Leah.
"Leah has been a rock star for us both professionally and personally," remarks Marissa. Leah helped Marissa and Jeff get on track with their business liability insurance. Recently, they invested in Penn National car/renters insurance, which has helped them to achieve significant cost savings each year.
More Than an Agent
Leah is not only their agent, but also a friend and client of Beauty and the Barber. "She has shown enthusiasm for our business and helped us thrive to our best potential," says Marissa. The couple is genuinely thankful to Leah and Members 1st for providing all they need to be successful.
"Members 1st has created a feeling of personal trust for us over the years in knowing that we are covered with a team of professionals who understand the direction we want to pursue and respect our needs," says Marissa.
Interested in scheduling an appointment at Beauty and the Barber? Call (717) 893-5106 or visit its Facebook or Instagram pages for additional information.
Business owners, protecting what you have worked hard for is critical. Our experienced agents are here to work with you to learn about the operation you have built and create a plan tailored to your specific needs. Contact our insurance team to secure a free quote in just a few minutes.
Insurance products are not federally insured and are not obligations of or guaranteed by Members 1st FCU, Members 1st Insurance Services or any other affiliated entity.