Starting a new life together is exciting, but it can also come with new and unexpected expenses—making budgeting for newlyweds an essential task. Creating your life together is the perfect occasion to plan for the future. With the proper monthly budget, you can put money aside to make those dreams a reality.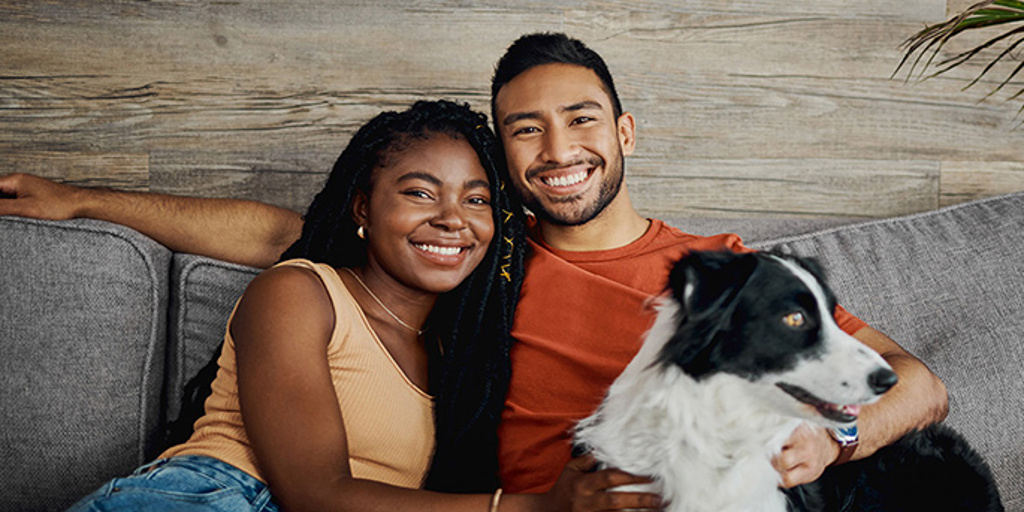 Budgeting as partners is also vital for helping you combine finances smoothly. This process allows you to get on the same page about finances and can spark meaningful conversations about money and your financial goals. Learning how to budget with your spouse helps you form good money habits early in your marriage and prepare for the years ahead.
What to Consider When Planning Finances with Your Spouse
Take care of these to-dos after the wedding to ensure you have a strong start:
Contact your financial institutions to update your marital status or name if it has changed.
Tally up any outstanding wedding costs and create a plan for paying them off.
Update next-of-kin and beneficiary information on insurance policies, bank accounts and other documents.
Update any insurance you need to and take out additional policies, such as life insurance.
Talk often about what money was like growing up and what your attitudes toward finances and spending habits are now to understand each other.
Talk to a tax planner to learn how your marriage will impact your taxes.
Create or update your wills and power of attorney to ensure both partners have the proper plans.
How to Budget with Your Spouse
Once you've taken care of the basics, you will want to sit down a few times together and start planning your financial life as a married couple. When budgeting for your new life together, you may want to:
Set Financial Goals and Priorities
Every couple has different plans, and yours may include:
Buying a home
Advancing careers
Finishing school
Starting a family
Traveling the world
Starting a business
Saving for retirement
Discuss what you want to do as a couple and individually before deciding what you want to tackle first and how to budget for those items. How much do you need to set aside each month and how long will you need to save to reach your goals?
Decide What Finances to Combine
Determine whether you want to have separate accounts alongside a joint account to pay the bills. Will you have access to each other's credit cards? Decide how you will tackle shared expenses, how much each person will contribute and whether you will combine accounts or not.
Create a Married Couple Emergency Account
The ideal emergency savings account contains at least three to six months of monthly expenses. You may run into unexpected challenges, including the loss of a job, a sudden illness, a car breakdown or other events. An emergency account means you can pay for issues as they arise without going into debt, helping you breathe easier and experience less stress.
Tackle Any Outstanding Money Issues From Before Your Marriage
If one of you has credit card debt, title loans or other high-interest loans, find a way to pay it down. Move forward without these expenses putting pressure on your monthly budget.
Set a Monthly Budget
Every budget for a young married couple is unique. Some couples create individual budgets and keep finances mostly separate, while others combine their income and pay expenses according to income. Regardless of how you do it, determine how much money is going in and what your financial obligations are as well as how much you want to allot for savings, groceries, entertainment and other expenses. Writing everything down in a monthly budget lets you track where your money goes and helps you avoid overspending.
Keep Track of Metrics
You may want to set up some visuals or use an app to track savings or another goal to see how you're progressing. This strategy can make achieving your financial goals fun and ensure you're making headway.
Decide What to Automate
Consider whether you want to set up automatic payments on bills or have a specific amount come out of your accounts each month for savings. Automation can make it easier to make sure you're meeting your obligations. Still, you also need to be vigilant about balancing your accounts and having enough money for every expense coming out of the account.
Schedule Regular Money Meetings
Check in with your partner regularly to see how you're doing financially, whether you need to make any adjustments to your budget and how each of you feels about your financial life. If one or both of you are new to budgeting, there may be a longer adjustment period.
At the beginning of your marriage, meeting monthly specifically to discuss your budget can help you work out how you want to manage your money together and allow you to get on the same page about what you're building toward. For example, one of you may wish to have more wiggle room in the budget while the other may be more interested in maximizing savings. Talking about your financial goals and feelings about your current money management habits can help you find compromises so each of you gets what you need.
The Importance of Staying on Budget
It can seem like work to combine finances, set financial goals and write out a budget, but there are many advantages to having a formal budget instead of just paying bills as they come:
A budget helps you find more money for savings so that you can meet your goals.
Budgeting enables you to avoid gradual increases in expenses.
A budget can help you pay for a new home, wedding and other expenses you may have as newlyweds.
A budget keeps both of you accountable.
A budget is an agreement, which helps you decide ahead of time how you will spend your money—even if you tend to use your funds differently.
Budgeting gives both of you a chance to take care of your needs and ensures both of you have a say in how your combined household expenses are handled.
A budget can help you avoid living paycheck to paycheck or going into debt.
Budgeting can help you find ways to save if you need to cut back on your expenses or are unsure where your money goes.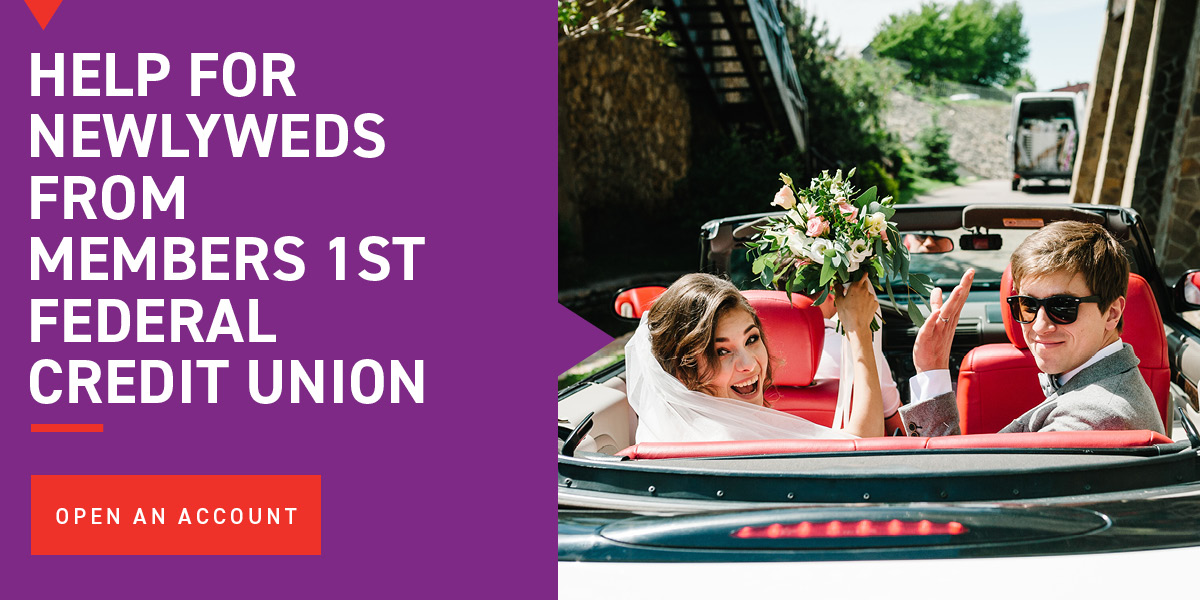 Help for Newlyweds from Members 1st
If you're newly married, our team at Members 1st would like to extend our warmest congratulations. When you become a member, you receive comprehensive financial services, including MyConcierge™, for when you have questions or need help reaching your financial goals. We have credit cards, home loans, support for businesses, savings accounts and friendly associates who are always ready to assist you.
Whether you combine your finances or keep them separate, consider our joint and individual checking accounts and savings account options. These funds allow you to save for everything from a rainy day or a down payment on your home to a vacation. Sign up to become a member or contact us for more help and information.