How to Organize a Pantry on a Budget
A disorganized kitchen pantry can make mealtime feel chaotic, but some quick cleaning and organizing can do wonders!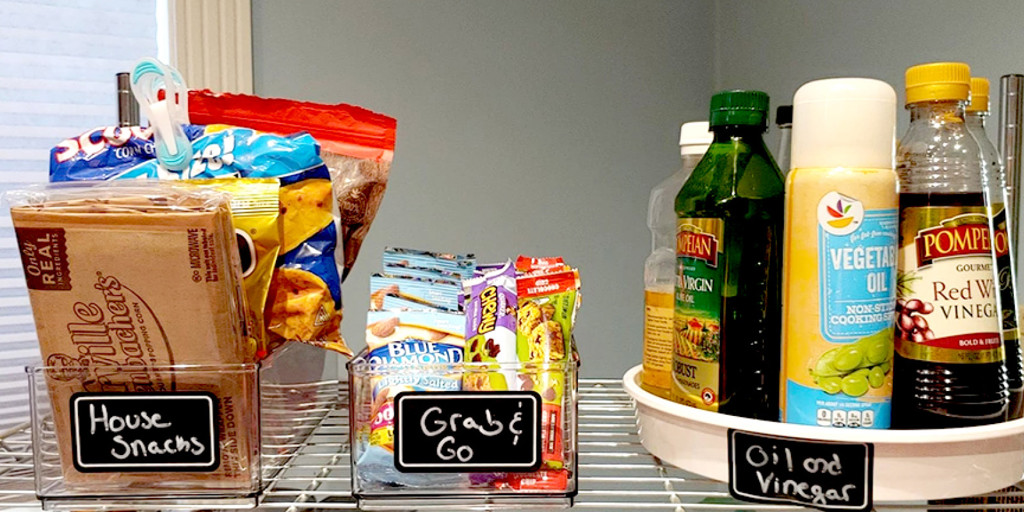 Creating organizational systems that match your lifestyle is a common phrase used by professional organizers. Don't worry—it's not as complicated as it sounds. If you have limited space and funds, we're here to guide you through how to organize a pantry on a budget based on our first-hand experience.
5 Steps to Organize Your Pantry
Step 1: Empty and clean your space.
Move all food items to a clear, decent sized table away from your pantry. Deep clean your shelves and consider painting your space if needed. Starting with a blank, clean space will make it easier to create your system and remove unnecessary foods.
Step 2: Look through food items and discard.
Review expiration dates on all containers and throw away expired food. Also, consider donating excess food or items you won't eat. Do you really need four jars of strawberry jelly? When was the last time you used red Thai chili paste? The more you ditch or donate, the less you will have to incorporate into your pantry.
Step 3: Create food groupings.
Look through your food items and organize them into broad categories based on your lifestyle and eating habits. These groups are often called "zones" and should give you quick, easy access to your food and the ability to better track its freshness. Zone examples include dinner, baking, overstock or quick snacks.
Step 4: Plan your pantry layout and storage.
Measure your area so you know your dimensions. Now, step back and really analyze your space. How could you represent and store your food categories? While it's tempting to use every nook and cranny, you don't want a cluttered appearance, especially if your pantry doesn't have doors. Consider sketching your layout on paper to help you visualize it.
Step 5: Find affordable storage solutions and labels.
Before shopping, look around your house or ask friends or family for storage and label options that you could use to help organize your pantry. If you still need cheap pantry organization ideas options, shop in stores like Dollar Tree or Walmart, or use coupons or store discounts to find low-priced items. We purchased chalkboard labels for $6.77 at Bed Bath & Beyond, splurged on a $25 The Home Edit 8-piece organizing set and used a few existing baskets for overflow items.
Use these storage and labeling tips to guide you.
Storage tips:
Stay consistent with storage options to avoid a messy appearance.
Use clear jars and canisters for cereal and dried goods.
Store bulk items in bins.
Consider putting healthier foods in clear bins and non-healthy foods in colored bins. Why? You're more likely to reach for visible food.
Create an overflow area for extra items and move them to other storage containers as needed.
Labeling tips:
Choose labels with easy-to-read background colors such as white, clear or black.
Label strategically. If handwashing jars are required, avoid labeling them. Instead, use masking tape on the lid to label the item and expiration date.
Place your labels in the center of your storage containers for all other items.
While it does take time, pantry organization on a budget can make eating healthy and meal prepping a breeze. You could even save money grocery shopping because you'll know what food staples are needed. Now that you're organized, do you feel your pantry or kitchen could use a facelift? A home equity loan helped our members, Patty and Bryan, transform their outdated kitchen into a functional, family-friendly space. Explore your options today.