Take the Pantry Challenge
It's fun, fast and guaranteed to save you money on groceries while cleaning out your cupboards and forcing you to get creative in the kitchen.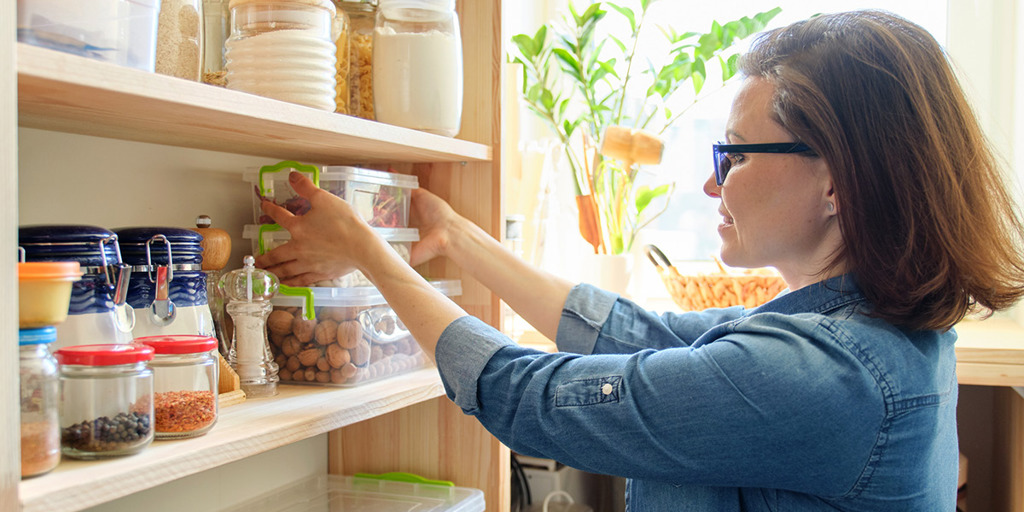 Are you in a leftover rut? Have your grocery bills climbed to new heights? Do you want to reduce food waste? Taking the pantry challenge may solve all your kitchen concerns.
What Is The Pantry Challenge?
It's pretty simple: over four weeks, you only eat food already in your house—no grocery shopping or dining out at restaurants. The purpose is to use all your supplies while saving money. You also decrease food waste because you eat everything you have on hand instead of going out to eat and letting the food inside your pantry expire.
The Benefits of a Pantry Challenge
Eating food you already have at home significantly lowers your grocery budget. It forces you to plan meals to ensure you have all the ingredients on-hand, which can also help you establish healthy eating habits. As you come across items located in the back of your pantry, try new recipes—you may discover a new favorite dish!
When Should You Do a Pantry Challenge?
Try it when you have plenty of downtime to cook and plan menus, such as between your kids' sports seasons or marching band commitments or after you return from a vacation.
Who Should Do the Pantry Challenge?
Anyone can do the pantry challenge! It's a great way to:
Setting Your Goal for the Challenge
Pick a simple goal that reflects why you're attempting the challenge. Maybe you want to clean out your entire freezer chest, or perhaps you want to empty your closet pantry before you begin kitchen renovations.
Setting Rules for the Pantry Challenge
The length of the challenge and the rules are up to you. Some people continue buying dairy products or fresh produce to ensure they get enough nutrients. Others allow themselves food from a garden along with pantry items. Some say no to any and all extras.
Tips for the Pantry Challenge
Here are a few tips to make the challenge easier:
List everything in your refrigerator, freezer, pantry and cupboards.
Plug those items into recipe sites to find fun new combinations to try.
Plan as much as possible.
Eat perishables first so they don't rot.
Save small portions, like a half-eaten box of crackers, for snacks.
Pantry Challenge Example
The key to success is making minor adjustments throughout the month.
By the end of the first week, eat all your fresh produce, then move to frozen and canned veggies and fruit. Planning meatless meals gives you double the rewards, eliminating pantry supplies and avoiding the need to hit the store for meat. If you switch your breakfast preference from cereal and milk to a hearty shelf-stable option like oatmeal, you'll reap both health and budgetary benefits.
When the pantry challenge ends and you begin grocery shopping again, remember to use your Members 1st Visa credit card to earn rewards. Want to tackle another type of kitchen challenge? Consider home equity options for a kitchen renovation and get the home you've always wanted.