DIY Laundry Room Organization & Storage Hacks
Don't throw in the towel on organizing your laundry room! Our simple laundry room hacks make everyday laundry tasks easier and faster.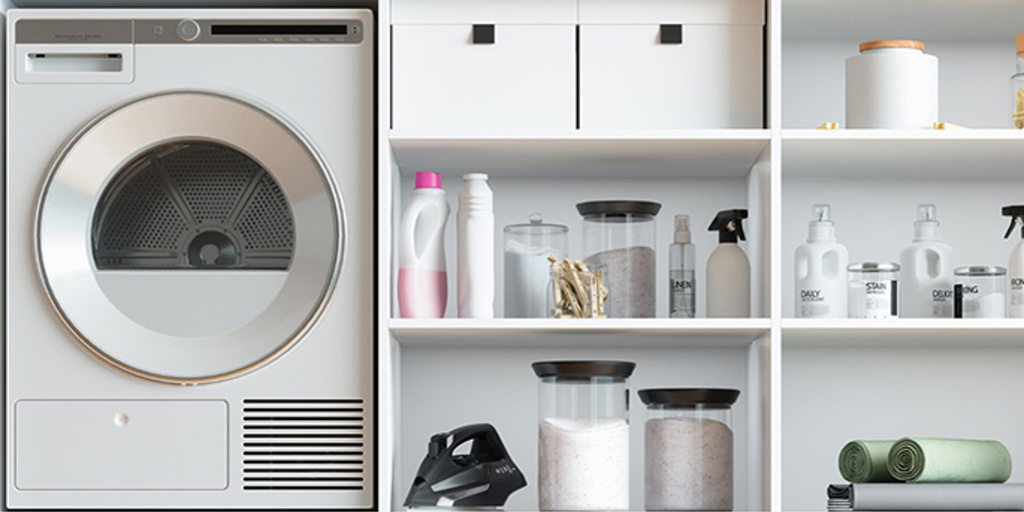 The laundry room's job is never done. Dirty clothes pile up every single day, and it's challenging to stay on top of them and get organized. To reduce your time in the laundry room and make this daily task more fun, use our DIY laundry organization tips for greater cleaning efficiency.
8 Laundry Room Storage Hacks

#1 Create and label storage baskets.
Labels keep the room organized by alerting people where to put things, even when you aren't there to tell them. This DIY laundry room organization tip is an essential first step as you get your space in order. For instance, slap a "lost socks" label on an adorable basket to show your family where to dump the inevitable singles in every laundry load (and maybe even help you match a few long-lost pairs of socks along the way).
#2 Craft containers for your laundry supplies.
Instead of setting mismatched bottles on a countertop, create attractive storage units for all your supplies using materials from a craft store like Michael's or reusing bins from other rooms in your home. Tie matching bows around baskets holding detergent and fabric softener or decorate glass containers filled with dryer sheets.

#3 Make an ironing station.
This station should house all the supplies you need to iron so you don't have to hunt them down individually. Try using a rack that slips over your laundry room door, which you purchase from Target or Amazon. Your station might include:
Iron, iron cover and iron cleaner
Ironing board holder
Hot iron rest
Hangers

#4 Squeeze a small rolling cart between the washer and dryer.
Eliminate the dead space in the few inches between the washer and dryer by adding a slim rolling cart to store cleaning essentials. You can store trash bags, stain removers, bleach and more on the cart. Push it out of sight when you don't need it.
#5 Add hooks to your walls.
Hanging small necessities from your walls, including in a garage, can save loads of space. This DIY laundry room storage idea involves installing pegboards on a section of the wall and attach scrub brushes, lint brushes, spray starch bottles and more.

#6 Purchase a wall-mounted drying rack.
Do you often have clothing items that cannot go into the dryer? Placing clothes on hangers in doorways and bathrooms can be a hassle. Consider buying an accordion drying rack to hang on the wall. This allows you to pull the rack out to hang clothes on when needed and store it against the wall when not in use.

#7 Hang a lint bin on the wall.
Did you know dryer lint can help to start fires in fire pits and wood-burning fireplaces? Use an outdoor wall mailbox and mount it on your laundry room wall to create a DIY bin where you can easily collect lint.

#8 Designate a tray for loose items.
What to do with all the coins, receipts, ponytail holders and other miscellaneous things you pull from pockets before doing a load of laundry? Buy or repurpose an attractive tray and label it "looking for this?" Put the tray on top of the dryer and tell your family to search the tray for anything that goes missing in the wash.
Tackle Home Upgrades with a Members 1st Home Equity Loan
Feeling inspired by incorporating these laundry room ideas on a budget and hope to tackle a more extensive renovation? Or, do you want to buy new appliances to complement your room makeover? Check out our home equity loans with excellent terms and low-interest rates to help you get the home of your dreams using your built-up equity.