Holiday Meal Planning Tips
Save time, stick to your budget and worry less with our handy meal prep guide.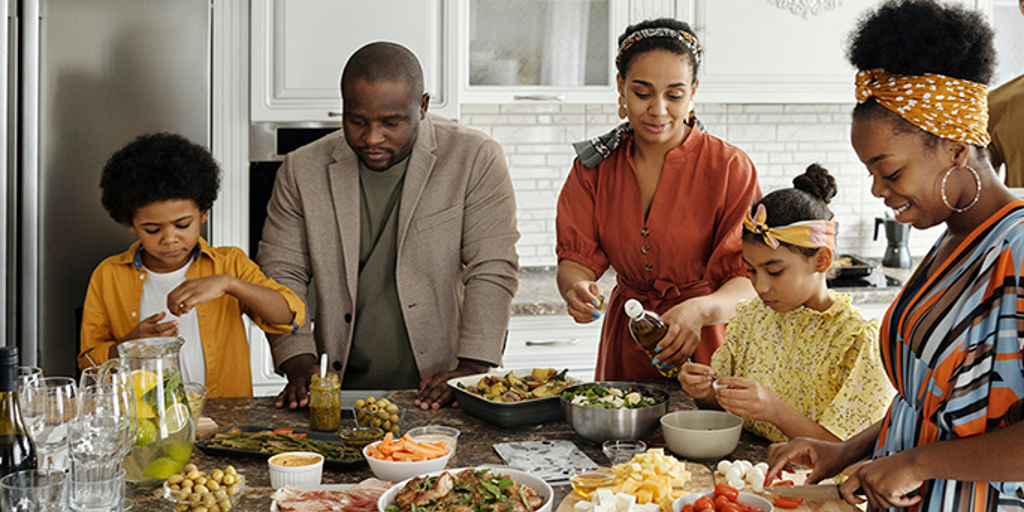 Hosting a holiday meal serves up a blend of excitement and anxiety. Instead of fretting about when to defrost the turkey or bake the perfect pie, use our holiday meal prep guide to simplify your big day.
Benefits of Meal Prepping
By preparing ahead of time, you maximize the time you can spend with your guests and minimize the chance of blowing your holiday shopping budget with panicked last-minute purchases. You also stay organized during meal prep so you'll remember everything and ease your stress levels.
Download our Holiday Menu Planner and Shopping List PDF to help you prep for the holidays. 
One Week Before
Ask your guests about any food restrictions. Finalize your menu based on their answers and compile your shopping list, including extras like drinks and disposable tableware.
Budgeting tip: Choose recipes that rely on seasonal produce, like Brussels sprouts, radishes and carrots, which are cheaper this time of year.
Time-saving tip: Organize your shopping list based on the store layout—for example, group all the produce together—to minimize time hunting for ingredients.
Three Days Before
Go shopping.
Budgeting tip: Buy based on grocery store sales—for instance, if a recipe calls for potatoes, choose the red potatoes on sale.
Time-saving tip: Shop early or late at night to avoid checkout lines.
Two Days Before
Meal prep for your recipes. Chop vegetables, prepare sauces, bake pie crusts and defrost the turkey. List everything you need to make, including how long it takes to prep and cook each dish. Then map out the big day by time so you can see that at 10 a.m., you need to mash the potatoes and at 11 a.m., you need to pop the bird into the oven.
Budgeting tip: Avoid using pre-made foods, like dressing or pies. It's cheaper to make things from scratch.
Time-saving tip: Enlist friends and family to help prep. Play holiday tunes and have fun!
One Day Before
Make anything you can in advance. Assemble casseroles and stash them in the refrigerator to bake tomorrow. Prep Jell-O molds. Don't pre-make anything that could wilt or become discolored, such as salad.
Budgeting tip: Avoid expensive last-minute runs to the store by swapping for pantry substitutes. Forgot the half-and-half for a recipe? Milk or coffee creamer work just fine.
Time-saving tip: Assign kids small to-dos, like setting the table for the big holiday meal.
The Big Day
Wake up early to begin cooking before guests arrive. Consult your day-of list to stay on track. With oven space at a premium while the turkey or other meat roast, reserve your toaster oven for smaller tasks, such as heating rolls. Ask guests who offer to help to plate appetizers or stir the gravy.
Budgeting tip: Ask guests to bring dessert for the kids in advance. It saves money and prep time.
Time-saving tip: Warm make-ahead dishes, like mashed potatoes or dressing, in crockpots. Stir in milk or broth before serving to keep them moist.
With our holiday food prep guide, you can reduce food waste from overbuying and get everything to the table while it's still hot. To save even more time and money this holiday season, compare rewards for our Members 1st Visa card to find the best option, and do all your shopping with the contactless card.