6 DIY Valentine's Day Home Décor Ideas
Fall in love with our six simple and affordable DIY projects perfect for February 14.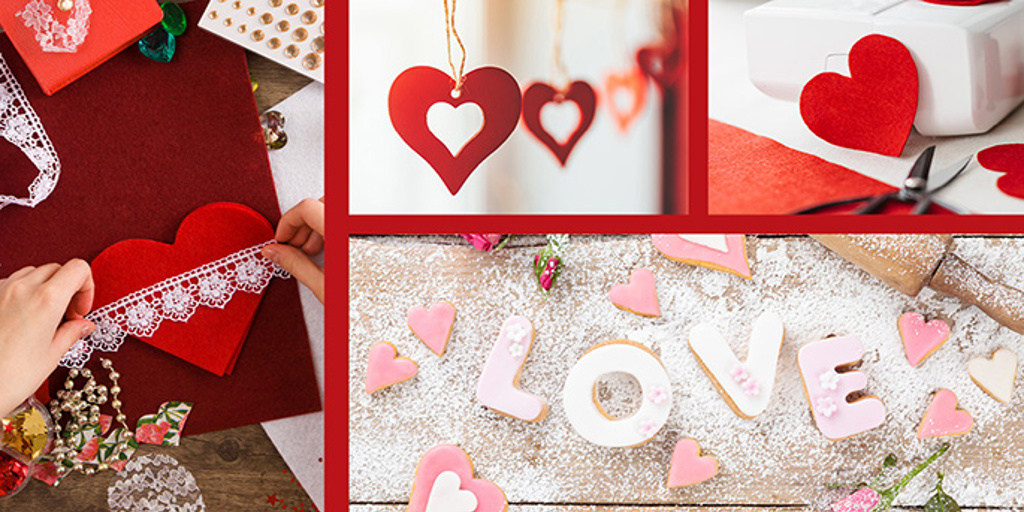 It is time for those three little words everyone wants to hear this time of year: Valentine's Day decorations! So, pull out the pink paint and grab the glitter. You can finish our six fantastic do-it-yourself options in a single afternoon. Best of all, our décor uses items from dollar or thrift stores, so you can spend less and stay well under your budget.
Book Page Heart Wreath: Love to read? Turn a used copy of your favorite book into a heart-shaped wreath. Pull out the pages and cut them in half. Put your finger in the middle of the page and pull up the paper around it to create a flower-type shape. Buy a wire heart wreath at Dollar Tree and stick the "flower" pages to the wire with a glue gun.
Wooden Hearts with Names: Cover a wooden heart from the dollar store with old pink, red or white sheets or with fabric bought from a thrift store. Using stencils and pink or red paint, write your family members' names on the hearts.
Newspaper LOVE Sign: Buy a wooden sign that says "LOVE" from the dollar store. Rip up a newspaper and apply the pieces to the sign using Modge Podge purchased from Michaels. Accent the sign with a few sprinkles of gold or silver glitter remaining from past DIY projects.
Candy Heart Candle: Find a clear glass vase around the house or buy one for a few dollars at a thrift store. Get multi-colored candy hearts, a white candle that fits in the vase and a pink or red bow. Fill the vase with candy hearts. Place the candle in the vase, pushing it into the hearts to secure the bottom. For the final touch, attach the bow to the vase.
Framed Valentine's Day Collage: Buy five to 10 Valentine's Day cards and pink paint. Purchase a frame from a thrift store and paint it pink. Cut up the cards and fill the frame with a collage made from the cards. Do you have kids? You can also use favorite Valentine's Day cards they received at school for the collage to save even more money.
Gift Bag Bunting: Turn Valentine's-themed gift bags into fun décor! Gather gift bags you've received over the years or purchase new gift bags. Cut the handles off the bags. Cut across the bottom of the bag to eliminate the square bottom. Finally, cut on a 45-degree angle from each side to meet in the middle and form a triangle. Use two clothespins to pin each bag to an 8-foot piece of string.
Remember to use your Members 1st Visa card when you shop for supplies to get great rewards. You can compare our options to find the one that suits your needs.