Budget-Friendly Organization Ideas for a Nursery
Give your bundle of joy a great start with a nursery featuring multitasking storage, repurposed containers and loads of labels.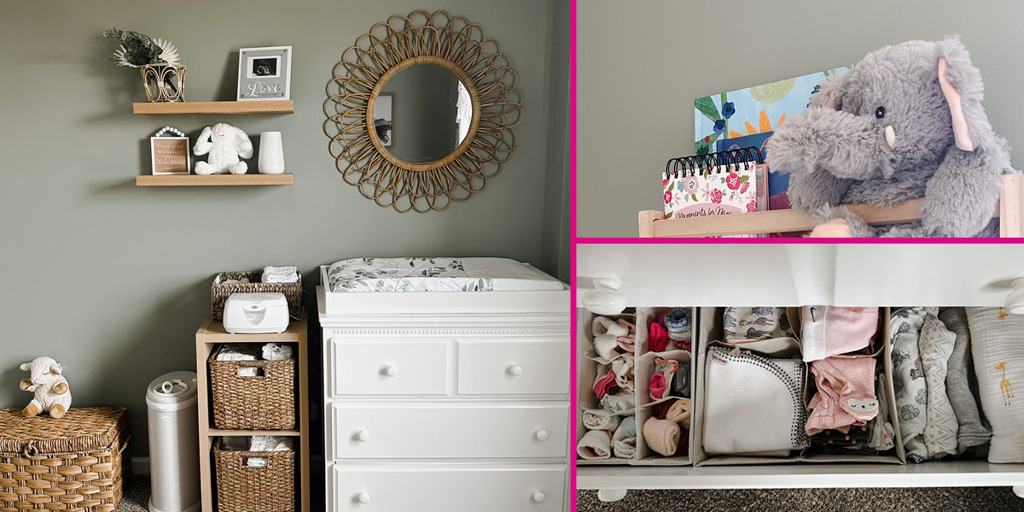 Want to maximize time spent cuddling and cooing with your newborn and minimize time spent searching for clean burp cloths? Organizing your nursery, including all the gifts you received from your baby shower, will improve your quality of life as a parent. Use inexpensive storage ideas, creative ways to repurpose everyday items and labels galore to find a place for everything in your nursery.
Why Is an Organized Nursery Important?
Caring for a baby is a big job, whether it is your first or your fifth child. Anything you can do to make those first months easier, and get more time to sleep in the process, is a win. With an organized nursery, you can also monitor when you get low on supplies, avoiding panicky late-night runs to the store because you did not know you were out of diapers. Finally, an organized space helps a grandparent, a babysitter or an ex find everything easily when they step into childcare duty.
5 Smart Ways to Organize Your Nursery
Buy multitasking storage bins.
Ottomans that double as toy boxes and changing tables and also corral pajamas and extra sheets free up space elsewhere in the nursery. When you purchase these items, use a contactless credit card that offers great rewards, like our Visa cards, so you can earn cashback or save to meet your financial goals.
Reuse items around the house.
Look around your bathroom or garage for baskets, bins or glass jars you can repurpose to hold towels, diaper rash cream, diapers and more.
Clean out clothes every two months.
Babies grow quickly. Getting rid of clothing they have outgrown stops closets and drawers from overflowing and cuts down on laundry loads.
Use vertical storage to free up floor space.
You can attach wire bins to the wall to store books, bottles, nursing materials, etc. It declutters other areas, and your baby cannot reach what you put up there.
Invest in labels.
You will appreciate the guidance to help you find what you want amid months of sleep deprivation that can blur your memory. Use labels for:
Giving your home a facelift may also become part of your nursery organization plan. Maybe you want to add a closet organization system in the nursery, or perhaps you realized you must renovate your home to make room for your newest member, which may also up your home's value. We can help. We offer different types of home equity loans, including Freedom Line of Credit for Pennsylvania and Maryland members, personal loans and personal lines of credit for home improvements and expansions. Let us help you get ready for both of your new additions.