DIY Bathroom Organization Ideas
Take control of your clutter using simple storage solutions and a few affordable finds.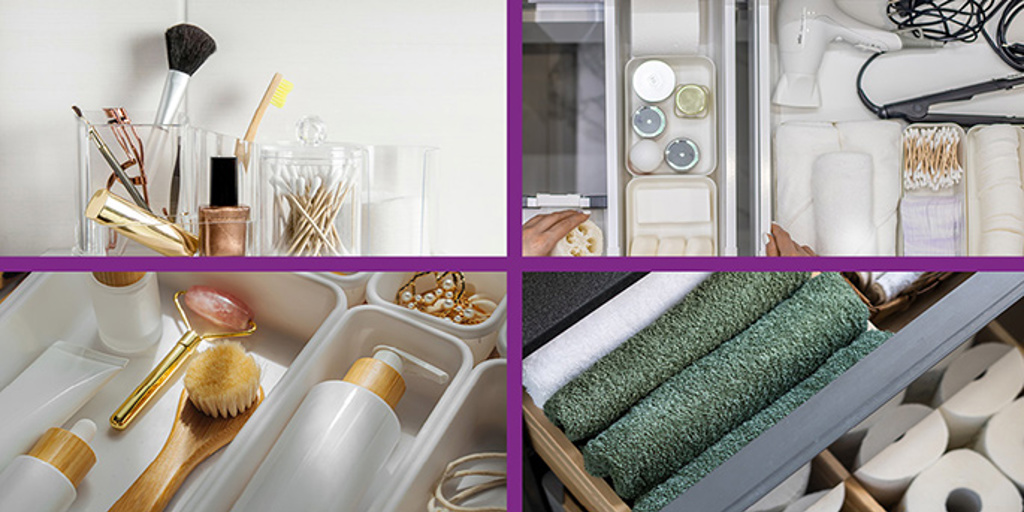 Is your bathroom vanity overrun by half-used shaving cream cans, toothpaste and lipstick tubes, contact cases and facial cleanser? It's time to crack down on that clutter. You can get organized in a single afternoon using our DIY bathroom organizing ideas, relying on items you have around the house, plus several pieces available at Dollar Tree.
Benefits of Organizing Your Bathroom
You spend less time searching for things with an organized bathroom. You can also see when you need to replace something, like toothpaste. Less clutter gives you more room to complete your morning routine, too.
How to Organize Your Bathroom
Focus on decreasing the number of items in your bathroom and finding a dedicated place for everything.
Here are six low-budget ideas for organizing your bathroom.
Do a thorough cleaning.
Toss makeup that's more than a year old, unopened skincare products, old toothbrushes and anything else you don't use regularly. Also, eliminate duplicates, like multiple eyelash curlers or fingernail clippers. Then deep-clean everything in the bathroom so that surfaces look and feel tidy.
Move your makeup to the wall.
Steal a few plastic wall organizers from your home office and attach them to the bathroom wall. You can store your makeup here, pointing your brushes upward so that they maintain their shape.
Turn old baskets into new storage spaces.
Update an old basket with a cute bow and put it on the floor for a pretty and practical holder. Find a bigger basket around the house and turn that into your new holder for clean towels, making them easy for anyone to grab.
Reorganize the space beneath the sink.
Thoroughly wash out jelly or other clear glass jars to repurpose for storage. Label each one so that you can easily find what you're looking for. You might store cotton swabs, bobby pins, moisturizer, lotion or cleaning products. Reuse a leftover lazy Susan from a previous organization project (if you have one) to make everything accessible.
Utilize drawer space better with bins.
Buy small plastic containers at the dollar store for additional storage. Store hairbrushes, dryers, mouthwash, toothpaste, shaving cream and razors to avoid cluttering the vanity.
Turn an old ladder into a towel rack.
Remove the bottom three rungs from the ladder and lean it against the wall. Voila, you have an instant (and fun!) towel holder with two rungs left for storage.
Feel inspired by your organizing spree to make even more significant changes, like remodeling your bathroom? Learn more about our low-interest home equity loans, which can help make your dreams come true while you add value to your home.